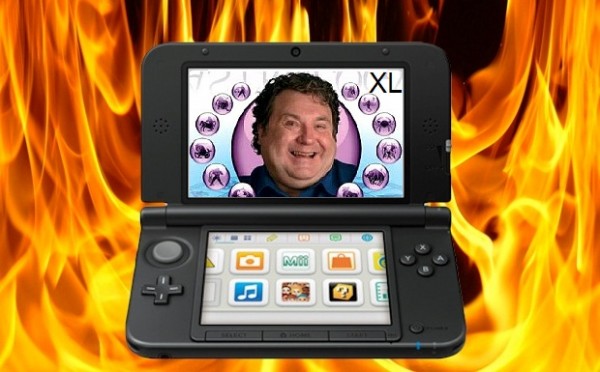 It was a quiet week. It was a slow week. It was a tiresome week. But hey, there is a bigger 3DS now I suppose? So soon too! Oh bugger it all! Well at least there isn't a sequel to Russell Grant's Astrology for the 3DS yet. Thank god for that.
Here what made headlines this week:
Gaming News:
– Namco Bandai working on next Smash Bros. Game
– Platinum Games developer diary is very insightful
– Anarchy Reigns delayed until 2013
– Leak reveals Sonic Adventure 2 HD coming to XBLA and PSN
– Dead or Alive 5 will not include post-launch DLC character
– No Charger for 3DS XL in Europe and Japan
– Nintendo 3DS XL confirmed for US release on August 19th for $199
Pop Culture News:
– Supanova 2012 Staff Impressions
– Beyond and Magna Merger Confirmed
– Interview with Game of Thones' Alfie Allen
– Interview with Buffy's Mercedes McNab
Anime/Manga News:
– REEL Anime hits in September
– Viz 'Speeds Up' Bleach Manga
– Anime Characters We Wish Didn't Die
– Black Rock Shooter Licensed by Siren Visual
– UN-GO Release Delayed by Siren Visual
– Medaka Box 2nd Season Green-Lit
– Nura: Rise of the Yokai Clan Manga Ending
Tech/Gadget News:
– Neal Stephenson's CLANG passes $290K
– Nintendo partners up with PDP
– SGP Announces New Mix & Match Linear Case
Reviews:
– Adventure Time: Righteous Quest 2 Review
– Star Wars The Old Republic Gaming Keyboard Review
– Resonance Review
– Metal Gear Solid HD Collection Vita Review
– WWE No Way Out 2012 Review
– Chronicle Review
– Teen Wolf Season 1 Review
– Light Byte Review
– Eager Beaver Review
– Disco Kitten Review
– Temple Run: Brave Review
– Gungnir Review
– Battlefield 3 Close Quarters Expansion Pack Review
– Asphalt 7: Heat Review
– Broken Blade Collection Review
– Lollipop Chainsaw Review
– The Amazing World of Gumball: School House Rush Review
Podcasts:
– Anime Say! Episode 12 – Supanova Sydney 2012
– Capsule Computers Podcast 049 – Ushering in E3
– CC Powerslam #8 – No Way Out Aftermath
See you next Sunday for the CC Weekly Recap.