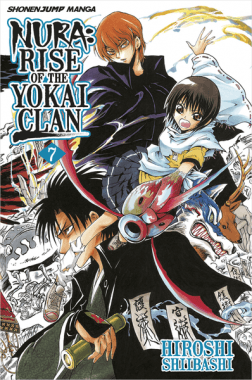 Really what manga isn't ending these days? It feels as though there is a truly immense shift in the manga industry happening, with many industry goliaths approaching their end point such as Naruto and Bleach. But it's not just the big series that will leaving an impact, but also the smaller ones such as Nura: Rise of the Yokai Clan.
In the latest issue of Weekly Shonen Jump it has been confirmed what many have long expected – Nura: Rise of the Yokai Clan is ending. The official announcement has been made that Hiroshi Shiibashi will be wrapping up the series in the coming weeks, with the final chapter oddly being moved into the seasonal magazine Jump NEXT! (Formerly known as Akamaru Jump). Not only will the manga be ending but apparently following the series conclusion their will be a major 'top secret' announcement. One could speculate one of two things; there is another anime adaptation on the way or Shiibashi will begin work on a new manga series.
This is truly a sad yet exciting time or manga fans, with many series wrapping up, there is just as many beginning. What more can I say besides: Bring on the next generation of manga!
What do you think of Nura: Rise of the Yokai Clan coming to an end? Let us know in the comments section below.
Source: Manga News