With the Supanova 2012 convention in Sydney done and dusted, and the hardworking writers Capsule Computer making it out in one piece to fight another day, we now sit back and reflect on our experience at this gathering for pop culture appreciation. This year, our Anime Editor, Luke Halliday, lead the CC crew to a fine day of photo taking, hitting on cosplayers, and delivering the best coverage we can.
With that said, we each now share our impressions of the event. Take it away Mr. Halliday!
Luke Halliday
Boy oh boy! What do I think of Supanova Sydney 2012? Well it was okay. I honestly believe it could have been much better organised and there was some pretty disastrous occurences throughout the day that really could have been prevented. For instance there was a major mix up with the event schedule that really made things confusing and the floor plan was poorly thought out with next to no room to move and the crowding was pretty bad. I wish that there was a more clear entrance and exit to the venue because I found the entire place difficult to maneuver through in general and it was even harder finding the way out.
Other than that, I did enjoy myself at Supanova, there was a fair amount to see at this event, although I do wish there was a greater focus and emphasis on the celebrity panels and seminars instead of pushing merch. There was just too much focus on the large anime market that they had going on and not enough on the actual celebrities in attendance, which is really a shame.
All in all, I found the event to be a little underwhelming with too many organisation problems overshadowing the few good moments of this event. Hopefully next year they will be better prepared, but considering nearly every Supanova I have ever attended has been an unorganised mess, I doubt that will change.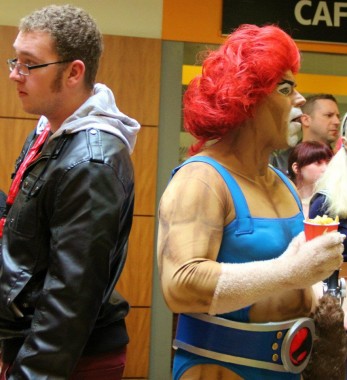 Benjamin Webb
What an amazing year at Supanova for me. Not only was there a fair amount of awesome panels and highly attractive cosplayers, but the organiser had found a way to shake up the monotony of what their convention was becoming.
We arrived early on the Saturday and were surprised when we were ushered into the section that would become the main staging area for guest panels, signings and the cosplay competition instead of just being made to wait outside until the convention had officially started. What was significant about this was that the staff even got the crowd to participate in some chanting and cheering and really got the convention off to an amazing start that made it feel all that much more involved than it had in the past.
What I also really liked about this years Supanova was that the staff seemed much more organised than they had in the past, which was incredibly useful for us in the media as we often required very specific information that would not be something normally asked by members of the public. Another thing that I liked was that the stalls weren't selling mostly junk, which has been prevelant in the past.
The Cosplayers at the event were simply magnificent and even the most basic of costumes had come out incredibly well. I remember meeting a guy wearing a box with 'Gundam' written on it, only it was crossed out and replaced with 'Eva Unit 02'. I soon found out that the modification was done by one of the Anime guests, Tiffany Grant, who does the voice for Asuka in the series Neon Genesis Evangelion.
Of course, the above example is not the one I wanted to bring up, but it was the most hilarious example that I could immediately think of. My most favourite cosplayer for the weekend was most definitely the Zelda cosplayer from 'The Legend of Zelda: Skyward Sword' (not pictured) who seemed to have a little bit of trouble with her small key. Shout out to you Princess!
Of course the most fun we had at the event was just us guys and girls from the site goofing off and joking around. I think that that is what makes the convention experience for everyone. It's not the guests, it's not the panels, it's not the quality of goods… it's simply the people you meet and the people you hang around with that makes the whole experience worthwhile. Props to everyone I spoke with on both days, especially to that guy cosplaying a Wavemaster from .hack//.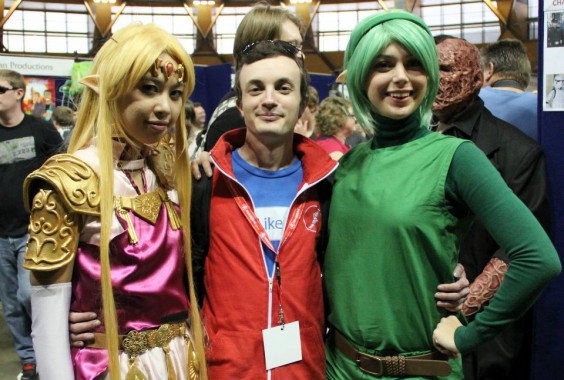 Jahanzeb Khan
This is actually my first Supanova, not to mention my first pop culture convention. It wasn't what I was expecting, especially since my expectations were based almost entirely on  the coverage I've seen for other popular conventions such as PAX. It was a bit underwhelming at first, as all it really was in the end was a big market, with various retailers and companies promoting and selling their products, not to mention some colleges and universites were advertising their courses and degrees in game design and animation.
The event could have been better organised, as it all seemed to have been haphazardly put together. That said, the great thing about Supanova were all the pop culture enthusiasts that were present, and the sheer amount of amazing cosplayers. It was a lot of fun spotting all my favourite characters, and going up to these cosplayers for photos and a bit of a chat. Some of these cosplayers really went all out in their costume designs, a few ones that come to mind are the Predator and Alien (Aliens franchise), Master Chief (Halo), Pyramid Head (Silent Hill 2), Juliet Starling (Lollipop Chainsaw), and my personal favourite, Jessica Rabbit (Who Framed Rodger Rabbit).
It was a lot of fun meeting all these people, and seeing such dedication and enthusiasm from Australian fans. A big highlight for me was the the presence of the Australian Wrestling Federation, as they had a whole ring set up and the AWF wrestlers put on a hilariously entertaining show for the people in attendance.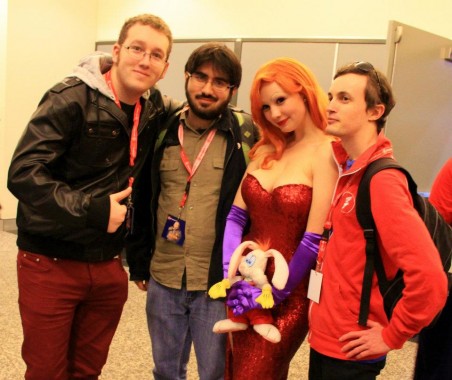 Jessica Barabas-Bui
Supanova 2012, the year marking Supanova's tenth year, was certainly a blast to attend. A good portion of that was due to the amazing cosplayers that turned up, there were seriously some that just looked completely amazing and ridiculously authentic. Plus, the R2D2s that were wandering about doing their cute little beep-boop thing. Generally if there was a crowd of people, there would be an R2-D2 in the middle of it with everyone 'oooh'ing and 'ahhh'ing.
The guests were an interesting mix, with a heavy focus on the comic book side of things (AKA a lack of the bigger TV stars), but that's not to say some really cool people didn't come out. I mean, Christopher Lloyd! He is one of the most epic guys, and a personal hero of mine. Plus, everyone went a bit crazy for Jennifer Hale, AKA Fem Shep. The guests were all quite gracious and lovely, which is always great, and had a great sense of humour in the panels.
Overall, it was a fairly good experience, as long as you have patience with crowds and are able to make your way through a crowded room at a cracking pace while heading to a panel across the hall.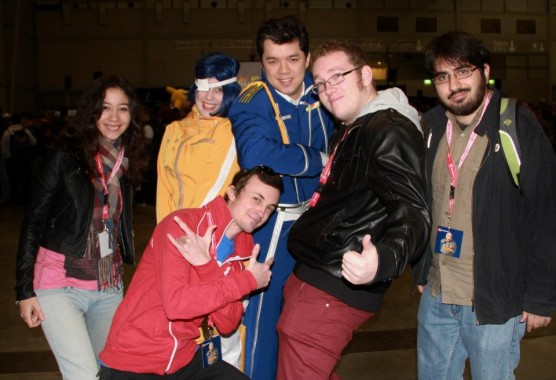 Claire Phillips
Supanova 2012 was the first expo I had ever been to, so on the one hand I had no idea what to expect, and on the other perhaps some unfounded expectations. It wasn't the slickest event I've ever seen, but one that is fuelled by the creativity and enthusiasm of it's attendees, whether they be a cosplayer or an exhibitor. I have a huge respect for the effort that some people put into their costumes, and even more for the ease with which they agree to having their photo taken by or with random strangers. There aren't many times or places when it's appropriate to walk up to someone, call them by the wrong name, and ask them for a photograph!
For me the stand out moments of my day at Supanova were two in number. The first, which was actually a rather unfortunate accident (in which no one was hurt, lest my entertainment from it seem a bit out of place), was during the Madman cosplay competition, during which one contestant managed to plummet through the back of the stage. Whoever she was, that girl will have a spot in the memories of hundreds of people for some time to come, and she was brave enough to get up and do it all again.
The second was without a doubt the wrestling match held on Saturday afternoon, which featured one guy in a leopard print leotard, and another larger gentleman in green and black spandex – it was so blatantly ridiculous that it created a great atmosphere in our part of the crowd, with a couple of tiny kids (dressed as Mario and Luigi of course) getting well into things and shouting "Kick his arse!". Hilarious.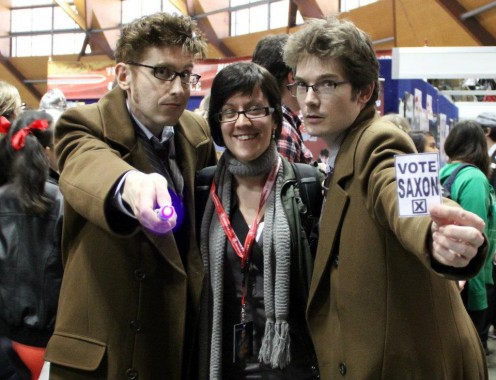 Annddd that's a wrap folks! See you at Supanova 2013!