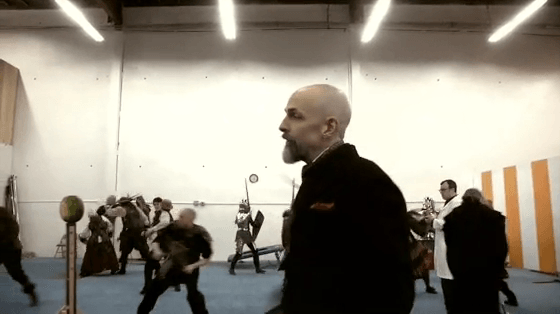 Neal Stephenson's Subutai Corporation has so  far managed to raise $290K  for their  "Guitar Hero, with swords" game CLANG. This leaves them with 21 days to raise the remaining $210K they need to reach their funding goal on Kickstarter.
For those of you who don't know what CLANG consists of well then I guess I'll have to explain it to you… awww effort is involved. CLANG itself is an upcoming PC arena game that promises to offer one on one multiplayer duelling, using the Sixense Razer Hydra motion controller. The Razer Hydra is basically a Wiimote on steroids as it has reduced latency and is far more accurate. This allows CLANG to feature a deep combat system which goes further then previous games, with the combat system set to involve parries, pommel strikes, grappling, feints as well as  different stances. The game itself will be fairly loose on storytelling hence the arena setting, though the team has said they will add some adventure tales in later instalments which will be co-written by 47 North.
Whilst Subutai is committed to making a game one of their real goals has the potential in their own words "to make sword fighting games better" is to create a series of MASEs (Martial Arts System Embodiments) which could be used by other game developement firms to make their own  more realistic. Basically this would be a series of pre-motion captured fighting styles that could be employed by game devs.
Personally I hope they succeed as I not only think the project could help to improve motion control games in the long run (we all know Kinect needs some help), but their page contains the best Kickstarter videos I have seen yet.
Also their may be a certain appearance by Gabe Newell and a crowbar in their original launch video, so worth a watch if only for the comedy elements. Check below the break to see their recent 50% funding update video.