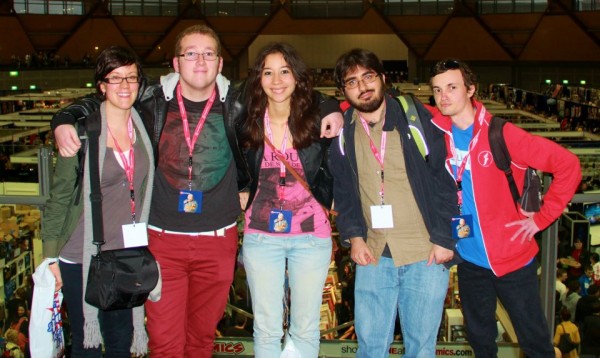 So a lot of stuff happened this week, I guess. We headed to Supanova Sydney 2012 and I got very 'hands on' with absolutely everyone. We also wrapped up our coverage of E3. Other than that you know, news and those other things called reviews. Oh and Anime Say is back bastards, check it out and check me out. Hello and Goodbye.
Here what made headlines this week:
Gaming News:
– Microsoft Kills Another Conference
– E3 2012 Photos
– Nintendo Wii U E3 2012 Impressions
– Dead or Alive 5 Interview
– Pikmin 3 will not feature online multiplayer
– Epic Mickey 2 E3 2012 Hands-On Preview
– Kirby 20th Anniversary Compilation Games Revealed
– Resident Evil 6 E3 2012 Hands-On Preview
– Tomb Raider E3 2012 Hands-On Preview
– EA literally are stealing your money
– EB Games reveals Project Gamer
– Borderlands 2 E3 2012 Hands-On Preview
– Mugen Souls Interview
– Kid Icarus: Uprising Tournament at Supanova Sydney 2012
Pop Culture News:
– Venom Movie Details Discussed
– First Dredd Poster Revealed
– Tokyo International Film Festival Details Revealed
– Supanova Sydney 2012: Hayden Panettiere cancels, Alfie Allen to the rescue
– Mercedes McNab Supanova Sydney 2012 Panel Details
– Suzie Plakson Supanova Sydney 2012 Panel Details
– AWF at Supanova Sydney 2012 featuring Verne Troyer
– Tricia Helfer Interview Supanova 2012
– Tony Moore Supanova Sydney 2012 Talk Details
– Nicola Scott Supanova Sydney 2012 Talk Details
Anime/Manga News:
– ADV sues Funimation for 'Illegal Monopolization'
– Zakuro anime now available by NIS America
– Otaku USA replaces Shonen Jump in Walmart
– Is This A Zombie? English Dub Cast Revealed
– SuBLime's Summer Manga Releases
– Gintama: The Movie premieres at Supanova Sydney
– Media Blasters cancels first blu-ray release of Bakuman
– Madman Supanova Sydney 2012 Announcements
– Madman Cosplay Competition Supanova Sydney 2012
– Stephanie Nadolny Supanova Sydney 2012 Panel Details
– Vic Mignogna Supanova Sydney 2012 Panel Details
Tech/Gadget News:
– Razer Blade out now in Singapore
– LXUA 2 Adds Three New Products to Line-Up
– Incase Releases Shepard Fairey Portfolio
Reviews:
– Resistance: Burning Skies Review
– Dead City Review
– Ben10: Samurai Warrior Review
– Junk Jack Review
– Arrietty Review
– Tyrannosaur Review
– Akai Katana Review
– TNA Slammiversary X Review
Podcasts:
– CC Anime Episode 07 – Spring on the Slope
– Anime Say! Episode 11 – Hello Again! Toonami Returns
– CC Powerslam #7 – No Way Out Predictions
See you next Sunday for the CC Weekly Recap.