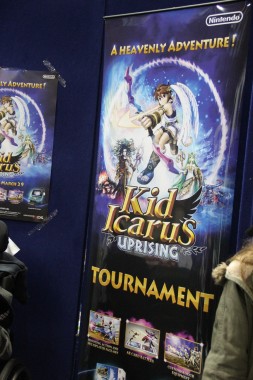 During the Supanova Sydney 2012 event, Nintendo of Australia made their present felt with a friendly Kid Icarus: Uprising tournament at the event. Fans of the game were encouraged to bring along their 3DS console and duke it out with other players.
People in attendance were able to visit the Nintendo booth and plug in their 3DS to one of the many chargers and engage in combat with one another in the Kid Icarus multiplayer and it was a damn good time to be playing Kid Icarus as the games best of the best duked it out in angelic combat.
Nintendo was also kind enough to give out Kid Icarus: Uprising AR Cards to those who brought along their 3DS consoles. The AR Cards were event exclusive, so if you managed to nab one of them your quite a lucky like angel. Despite being called a tournament it was an odd one at that due to the fact that there was no real winners or losers but it was the fun that all the people playing together had that counts.