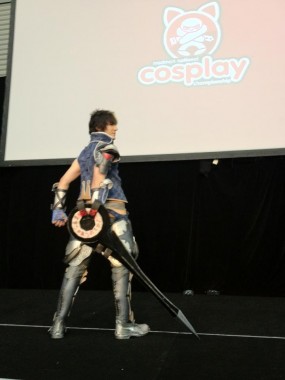 Australian anime and media publisher, Madman Entertainment, had a strong presence at this year's Supanova pop culture convention in Sydney, Australia. Like previous years, Madman were well prepared for the occasion with not just the usual stall where they were promoting their anime products, but also organising a full fledged cosplay competition.
The cosplay competition was not a typical one, where participants just come and pose in their costume, instead it involved a bit more effort on their part. Participants in the cosplay competition were required to perform dramatic reenactments from the anime or video game that were cosplaying, in the role of the respective character that they were portraying.
They had a nice set up where a screen played footage of the particular scene that each participant was acting out. The cosplayers came from numerous anime and video games, such as the Legend of Zelda and even obscure games like Magna Carta.
The sketches were quite dramatic to say the least, in particular the opening sketch which was based on the anime and manga series, D.N.Angel. Tragedy struck has the girl fell from the stage, there was a bit of commotion and the medics rushed into action. Unfortunately she was severely injured from the fall and our wishes go out to her and wish her a speedy recovery.
The winner of the contest was a cosplayer by the name of Roxas Wind, who was able to wow the fans in attendance with his sketch based on the ending sequence of the Xbox 360 Role Playing Game, Magna Carta 2. He played as the main protagonist, Juto, and delivered an energetic performance complete with on-stage props, not to mention he was dressed well for the part.
Congratulations to Roxas Wind, and a special thank you to Madman Entertainment for organising the contest which the fans in attendance enjoyed.