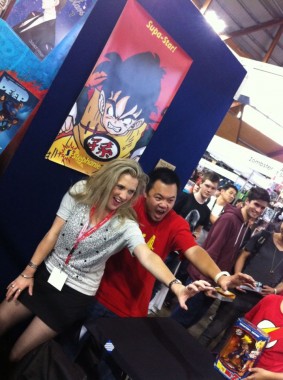 The voice of Young Goku and Gohan from the Dragon Ball franchise, Stephanie Nadolny, made her presence felt in the Madman Area at Supanova Sydney 2012 when she held her panel discussion with fans.
She discussed the Dragon Ball franchise and her career as a voice actress as well as taking various questions from the audience. She even rubbed elbows with some fans for signing and meet and greets as well as mock up kamehameha posed photographs (such as the one to the right).
It was a great panel in general for both fans of Stephanie Nadolny and the series she was a part of. Special thanks go out to Madman for providing the stage for Stephanie's Panel and of course to Stephanie for travelling down under for the convention.