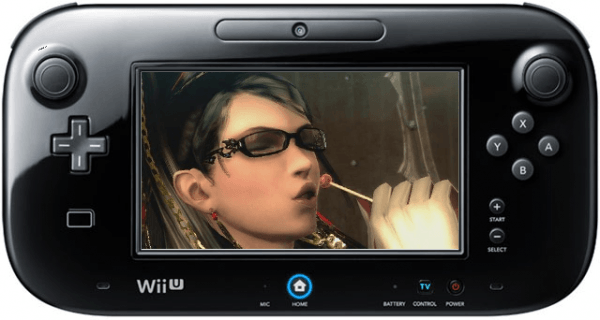 So this week was all about the Wii U. Here is a long list of things that happened with the Wii U. We like the Wii U. Do you like the Wii U? Bayonetta 2 for the Wii U. Did I mentioned that there was news this week about the Wii U?
Here what made headlines this week:
Gaming News:
– Wii U launching on December 8th in Japan
– Wii U North American launch date and price revealed
– Nintendo TVii announced
– Bayonetta 2 announced as Wii U exclusive
– Project P-100 now titled Wonderful 101
– Wii U European launch details announced
– Wii U Display vs. Tablet Display
– Nintendo confirm European Wii U launch line-up
– Wii U Australian release date and price
– Japanese Wii U launch line-up
– All of Wii's digital library is transferrable to Wii U
– Wii U North American launch line-up
– Bayonetta 2 Wii U Trailer
– Metal Gear Rising Xbox 360 Version Axed in Japan
– Ed Boon to headline EB Games Expo
– Hands On: FIFA 13
– Halo 7, 8 and 9 in the future?
Pop Culture News:
– Godzilla vs Ninja Turtles, May 16, 2014
– 300 Sequel gets new Title
– Transformers 4 Plot Details Revealed
– London cinema deploying Ninja!? 
Anime/Manga News:
– JoJo's Bizarre Adventure begins October 6th
– Accel World game heats things up with new trailer
– Magi Anime Trailer
– Occult Academy gets standard edition release
– SKET Dance Episode 75 Impressions
– Hunter x Hunter Episode 47 Impressions
Tech/Gadget News:
– Valve's plan for gaming headset revealed
– iPhone 5 unveiled and detailed
Reviews:
– Blast-A-Way Review
– Avengers Initiative Review
– King Of Thorn Review
– Alienware M17x Laptop Review
– Berserk: The Egg of the King Review
– Guild Wars 2 Review
– Wolf Children Review
– From Up On Poppy Hill Review
– Children Who Chase Lost Voices Review
– Skyrim: Hearthfire DLC Review
– Joe Danger 2: The Movie Review
– Monkey Slam Review
– Double Dragon Neon Review
Podcasts/Videocasts:
– Capsule Computers Podcast 059 – Fifty Nine
– CC Anime Episode 09 – Hyperdepression Neptunia
– Anime Say! Episode 19 – Bored of Sword Art Online?
See you next week for the CC Weekly Recap.