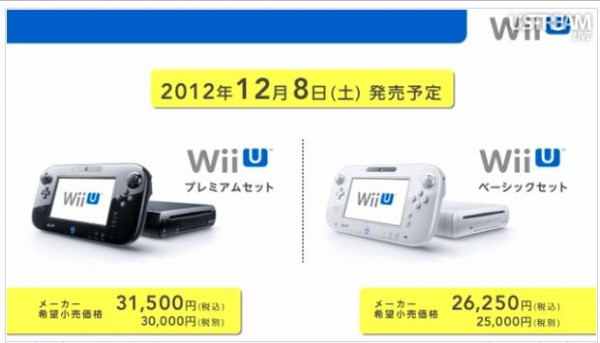 Nintendo has finally revealed details of the Wii U's launch date with the company revealing specifics on the Japanese release of the console through their Japanese Nintendo Direct conference.
They confirmed that the Wii U will release on December 8th, 2012 in Japan and will be released in two different versions. The basic bundle which will retail for  ¥26,250 (roughly$335), and the premium bundle costing ¥31500 (roughly $400). The difference between the bundles is colour and storage space. The basic version will be white and include 8GB flash storage and the premium version will be black and include 32GB flash storage.
The premium version comes packaged with the Wii U itself, Wii U Gamepad, AC units for both the console and Gamepad, a HDMI cable, a Nintendo Network Premium Membership as well as a stand for both the console and Gamepad.
Nintendo has not detailed anything further than that but there are plans for other Nintendo Direct conferences across the globe including an American Nintendo Direct and a European Nintendo Direct in which they will detail the consoles release in those regions.