Page 1 Page 2 Page 3 Page 4 Page 5 Page 6 Page 7 Page 8 Page 9 Page 10 Page 11 Page 12 Page 13 Page 14 Page 15 Page 16 Page 17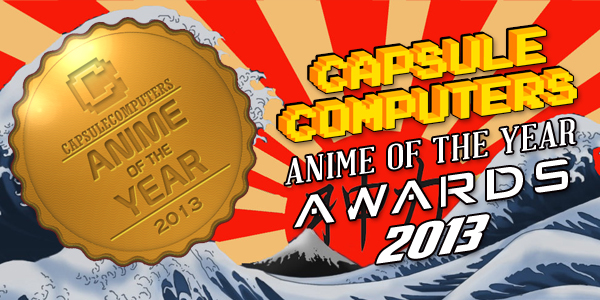 Welcome to the inaugural Capsule Computers Anime of the Year Awards. This is our first time ever doing an Anime of the Year Awards and we want to kick things off big. In what will become an annual awards article, we will be giving out several awards highlight some of the biggest facets of anime each year. This year in particular has been a particularly big one for anime, with countless quality anime bursting onto the scene. With so much great anime this year it is only right to celebrate the best of the best. So without further adieu, here are our winners for the year of 2013.
Welcome to Capsule Computer's 1st Annual Anime of the Year Awards!
Click on the pages below to and find out who wins, along with our editors' choice awards and special bonus feature AOTY Podcast!
Best OVA
Best Sequel
Best Anime Movie
Best Animation
Best Studio
Best Theme Song
Best Score
Best of Winter 2013
Best of Spring 2013
Best of Summer 2013
Best of Fall 2013
Best Anime Release of 2013 AU
Best Anime Release of 2013 US
ANIME OF THE YEAR
Editor's Choice
Bonus Features – AOTY Podcast
---
Page 1 Page 2 Page 3 Page 4 Page 5 Page 6 Page 7 Page 8 Page 9 Page 10 Page 11 Page 12 Page 13 Page 14 Page 15 Page 16 Page 17