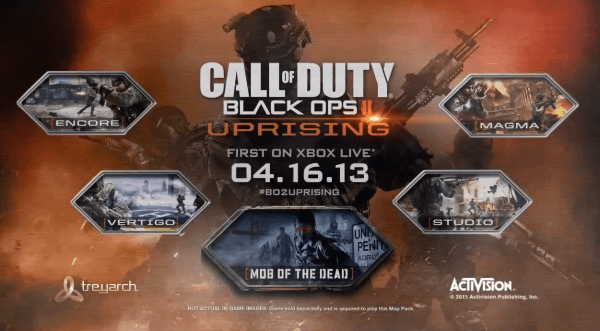 Fans of Activision and Treyarch's Call of Duty: Black Ops II are a rabid fanbase eager for a steady stream of content and today they get another meal to satiate their hunger for a while.
The Uprising map pack released today exclusively for Xbox 360. The map pack will feature four new multiplayer maps and a new, special zombie offering. The multiplayer maps include the following:
Magma – a modern Japanese village with volcanic eruptions carving multiple paths throughout the town
Encore – a level that takes place in the aftermath of a deserted London music festival and leaves numerous opportunities for plenty of run-and-gun, close quarters combat
Vertigo – a futuristic high-rise mega-structure located in India that features dizzying vistas and multi-tiered pathways
Studio – contemporary re-imagining of "Firing Range", the fan-favorite multiplayer map from the original Black Ops. It is a Hollywood movie back lot with various cinematic themes
Also included in the map pack DLC is "Mob of the Dead." This special Zombies experience will put players in the shoes of four prohibition-era mobsters that are serving time in Alcatraz Prison when they discover the bars keeping them in aren't their biggest problem. The four mobsters are backed by real Hollywood talent (Ray Liotta, Chazz Palminteri, Joe Pantoliano, and Michael Madsen)
The Uprising map pack is available now on Xbox Live for 1200 Microsoft Points. Players who have the Season Pass will not need to purchase anything further.
For more information, you can check out the official age-gated page here and read some of our coverage of the game as well as our review.