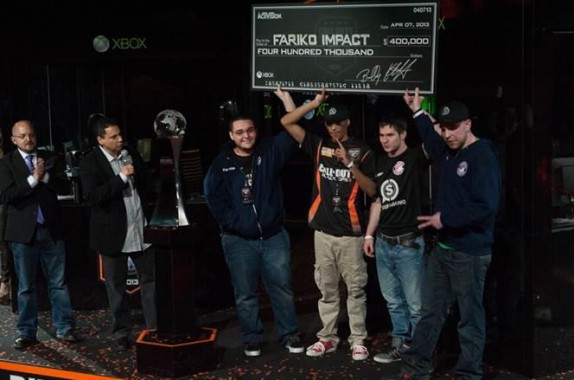 (Treyarch Studio Head Mark Lamia and Game Design Director David Vonderhaar present team Fariko Impact with their big check for $400,000 for winning the Call of Duty Championship.)
Well, the Call of Duty Championships are now over, and one winner stands as the dust clears. Fariko Impact took home the top prize, proving themselves to be the best when it comes to Black Ops II, while taking home a hefty chunk of change in the process.
Here are the details of what went down:
Winning their way through three days of intense multiplayer competition against 30 other professional four-player teams, Fariko Impact and EnVyUs met face to face at centre stage for Sunday's finals matchup to determine who would be crowned World Champions at the Call of Duty Championship, presented by Xbox. In the end, Fariko Impact, consisting of Damon "Karma" Barlow, Adam "Killa" Sloss, Marcus "MiRx," and team captain Chris "Parasite" Duarte (pictured below) emerged victorious and cemented their spot as the best Call of Duty: Black Ops II players in the world, taking home US$400,000 of the tournament's US$1 Million prize purse. Team EnVyUs took home US$200,000, while third place team OpTic Gaming took home US$120,000, with the remaining prize purse distributed among the remaining top eight teams.
A big congrats goes out to all four men (and every other team involved), who have went home with bragging rights and enough money to invest in a lifetime supply of first-person shooters.