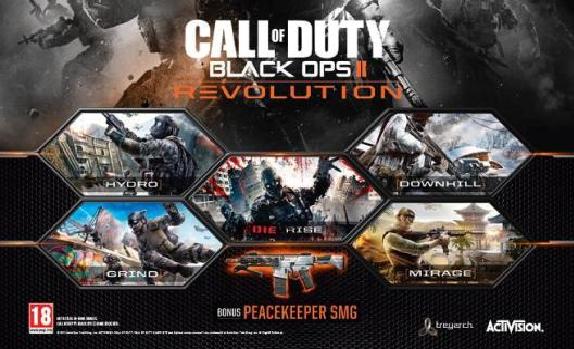 We all heard that Black Ops II's first DLC pack was coming soon, but we now have a date of just when the content will drop on the Xbox 360. Revolution is set to launch on Jan. 30th, bringing with it four all-new multiplayer maps, an original zombies co-op Map and New Zombies Mode Allowing Fans to Actually Play as a Zombie – as well as a new weapon.
Details you say? Well, here is what we know:

Revolution takes players to unexpected new locales the world over. "Downhill" is set in the ski country of the French Alps, where players fight their way down the slopes and through a ski lodge, while avoiding the moving hazards of the mountain's gondola system. Opponents must dodge the floodwaters in "Hydro" as they contend for dominance of this hydroelectric dam facility in Pakistan, filled with treacherous spillways. "Mirage" pits players in competition amidst the sand dunes of a dilapidated luxury resort in the sandstorm-devastated Gobi Desert, where a range of long-distance and close-quarters combat will mix up the action for all play styles. Finally, "Grind" transports players to the historic birthplace of skateboarding, California's Venice Beach, where they will battle it out through the ramps and half-pipes of this massive, epic skate park in a multiplayer environment comprised of unique curved architecture requiring players to adapt and learn new ways to take cover. Each map in Revolution delivers a uniquely exhilarating new landscape for tactics and battle.
Revolution also delivers a lethal bonus multiplayer weapon, the "Peacekeeper." This powerful SMG, accompanied by its own set of weapon challenges for additional XP, is unlocked to all Call of Duty: Black Ops II fans that pick-up Revolution.
Additionally, Revolution transports players to the Far East, where they will attempt to overcome a zombie infestation inside a series of collapsed skyscrapers towering over the remains of an obliterated Chinese city. In this new and original Zombies map, "Die Rise," players will wield powerful, upgradable Wonder Weaponry as well as combine new buildable devices to fight a relentless army of the undead throughout Escher-esque sceneries over a deep and perilous chasm. And in a twist, Treyarch has added a new game mode, "Turned," where players can finally complete against each other as a zombie!
Revolution will hit Xbox Live at the end of the month and will be priced at 1200 Microsoft Points – or $14.99 for those of you using credit. Those who have already pre-purchased the Season Pass for Black Ops II will be able to simply download the pack at launch. At the moment, no other details have arisen for a date for the Playstation 3 or PC versions of the game – but stay tuned, as once that news comes forward, we will be sure to bring it to you.