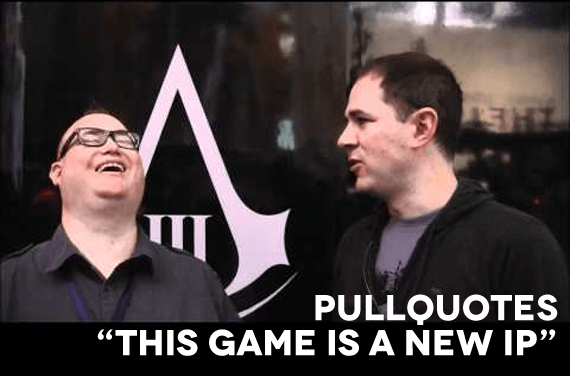 It seems that some developers just don't know how to keep their mouths shut. This week in developers who should shut up but don't, Alex Hutchison of Assassin's Creed 3 is at it again, this time putting the 'ass' in Assassin's Creed and Christian Svensson from Capcom makes some comments that stirred the pot of  Mega Man controversy. That's not all though, we figured out how the get the PS VITA off life-support and all pretended to care about the cancellation of the Barrage manga. All this and more below!
Here what made headlines this week:
Gaming News:
– Resident Evil 6 stolen and on sale in Europe
– Getting the Vita off Life-Support
– Skies of Arcadia trademark renewed by SEGA
– What games are playable at EB Games Expo 2012?
– The Sims 3 Supernatural Ghost Tour Fun
– Ubisoft abandons it's DRM policy
– Get 25% off Playstation Plus Subscription
– Triple-A Games are dying out say Assassin's Creed 3 Developer
– Dishonored Interview with Julien Roby
– The Downfall of Mega Man according to Capcom's Christian Svensson
Pop Culture News:
– Hansel and Gretel: Witch Hunters Trailer
– Lawsuit delays Marvel 'Phase One' Box-Set
Anime/Manga News:
– Hunter x Hunter Movie Trailer Revealed
– High School DxD Season 2 Announced
– Barrage Manga Cancelled
– Mass Effect anime delayed until December
– Yen Press licenses Doubt Manga
– Fairy Tail author draws gender swap characters
– Hunter x Hunter Episode 45 Impressions
– SKET Dance Episode 74 Impressions
Tech/Gadget News:
– Halo Vanguard Unvieled
Reviews:
– GOSICK Collection 1 Review
– Madagascar 3: Europe's Most Wanted Review
– Rome: Total War Anthology Review
– Corpse Princes Complete Collection Review
– Supermagical Review
– Fire Escapes Review
– Wild Blood Review
– Madden NFL 13 Review
– Toki Tori Review
– Transformers: War for Cybertron Review
– Expendables 2 Review
– Soldiers vs. Aliens Review
– Texhnolyne Review
Podcasts/Videocasts:
– CC Powerslam #11 – Summerslam
– Capsule Computers Podcast 058 – Tootle-doo, Toodles
– Anime Say! Episode 18 – Tobi's Identity
See you next week for the CC Weekly Recap.