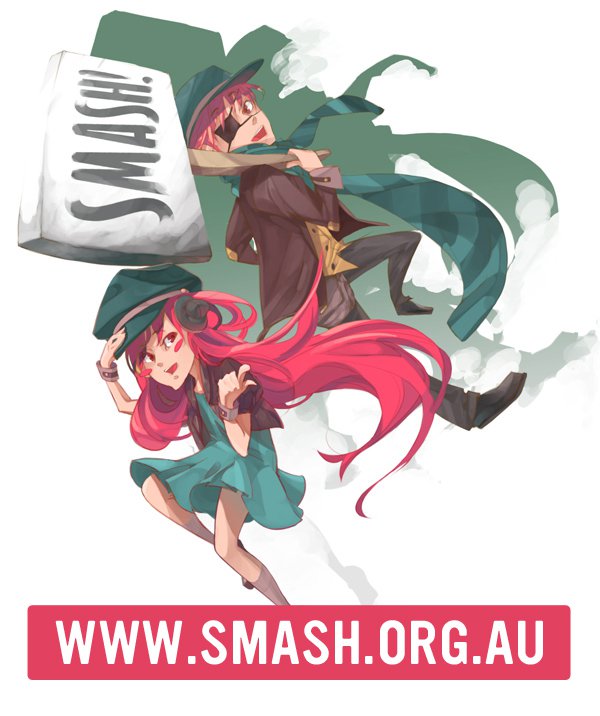 SMASH! or the Sydney Manga and Anime SHow! is one of the largest and most popular conventions in Australia for Anime enthusiasts, gamers and Otaku. In this article I hope to have given out my entire impressions of the event, as well as giving you at home a rundown of what it's like to be a participant in one of the best conventions in Sydney. I would also like to point out that much of the day was a blur of fun and awesomeness, and that some event times may seem a little out of synch. I've done my best to place my experiences of the event in order.
The event kicked off at around 9AM with the first in line being able to purchase entry to the event. Now, with most conventions, entry to the event is pretty much always going to be hindered by this gigantic and snaking queue. As media, we were able to bypass this queuing process entirely, but this does not mean that we didn't go and take a look at it's progress. What I particularly like about SMASH! is that their queues are almost always efficient for entry to the event and from what we could tell from this years convention, it had very similar queue times in comparison to years previous. I estimate that by the time of 10AM, most of the crowds were in the convention centre and ready to start viewing panels or browsing the vendor halls.
The first panel of the day in the main auditorium was the Sakura Tange panel (you can view our article here). Unfortunately, I had to go off to cover the Steampunk Panel and was unable to actually view the Sakura Tange panel but I heard from the guys that did cover it that it was pretty entertaining. You can view the article about the Sakura Tange panel here.
The Steampunk panel was amazingly insightful and gave me a while bunch of additional knowledge about a fandom that I didn't really know too much about. What I took out of this panel is that Steampunk characters are pretty unique to an individuals own tastes and that most people that dress in this attire put a lot of thought into the aesthetics and functions of their characters. I also thought that the panels hosts were pretty charismatic and knowledgeable. You can read my full thoughts here.
What's really fun about going to conventions isn't really the panels that you see, or the way the queues progressed; it's really the people that you meet and the familiar faces that you haven't caught up with in a while. I mean, yes the panels are fun and are what sell the convention, but the best memories are always the shared ones. I, myself, caught up with a few old friends whilst between events and had a lark just chatting and catching up whilst checking out various stalls and cosplayers. I did this for a while before meeting up with Claire at the Cosplay Chess.
Now, Cosplay Chess is something that you would assume to be something played by someone who is actually good at chess. Unfortunately, this was not the case, making the whole battle rather cringe-worthy. I mean, I like cosplay chess as a laugh and a way of having attendees meet and interact with each other, but seriously, please get someone who actually knows chess to order the chess-pieces around. I feel that by having a much more intense battle, the Cosplay Chess can only benefit.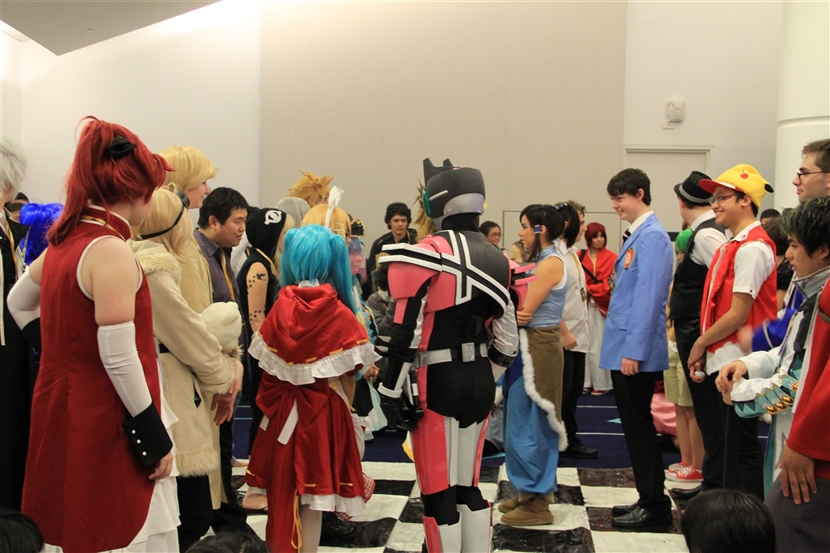 After a painful match, I met up with some of the others from Capsule and we decided on what to do next. As far as I was aware, Josh and Jess were checking out the Yuko Miyamura panel whilst the I was off dilly-dallying and Luke must have come out whilst the Voice acting workshop was underway. After we checked out some of the con and chilled for a bit, I joined Josh for the Shinichiro Miki panel.
Shinichiro Miki is probably one of the most awesomest Voice Actors, or Seiyuu, in the Japanese Animation industry and you could tell that people new this just by how packed the auditorium was when his panel was set to commence. The panel primarily consisted of the host, that seemed a little too reverent, asking Shinichiro a series of questions then interrupting the questions with some live dubbing. Apparently live-dubbing is a specialty of Shinichiro's as we were told this by the host and really, Shinichiro only verified this claim by doing so well in front of everyone. My only real complaint about the panel was that the videos audio was cut so amateurishly, I'm sure they could have gotten an audio engineer or something to take a look at it beforehand. It's nothing major, but I could hear a little unrest in the section that I was sitting in about it. Overall Shinichiro Miki's panel was awesome and I know that everyone there was certainly glad that they sat in to watch it. You can check out Josh's impressions of the panel here.
After the Shinichiro panel, Josh and his companions took a walk to get some lunch and I left them to hang out with some friends. After a short while of checking out some stalls and the like, I decided I needed something to munch on so I bought some food and a can of V from the neighbouring shopping centre.
Whilst Claire was at the Charity Auction (the full coverage for this can be viewed here), Luke and myself went around to check out some cosplayers and to record some segments for his Anime Say! series. Also, somewhere before this, Luke checked out the Madman Industry Panel and pulled out their acquisitions, which can be viewed here. Generally, when you stick both Luke and Myself together, fun happens. And fun happened indeed. For a glimpse of this fun, be sure to check out Luke's Anime Say! Article here. Some of the antics that are included are ones such as this fine moment: Singing the Pokemon theme song around a generation that would have no idea what the hell the original theme even was. We also briefly checked out the Cosplay Competition, which Claire did the main coverage for (which is linked further down) and we can attest to the quality of Cosplayers in the competition.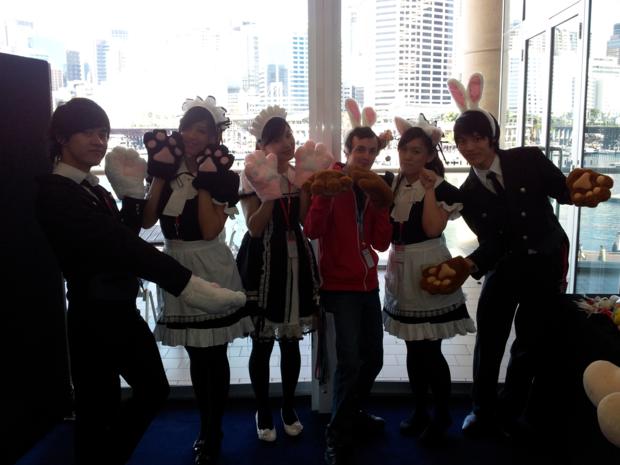 At some point around here, it is really unclear when, both Luke and myself checked out the Maid Cafe. This cafe was pretty cool and we got some photo's of and with the staff. This was probably a really unique experience for everyone that was able to book a session during the day. You can read about my experience in the Cafe here.
The main point of interest in our little adventure of being awesome was our stop over at the Hanabee panel. At the panel a bunch of great titles were announced and we learned a fair bit about Hanabee as a company. Be sure to check out our article discussing the Hanabee acquisitions here. We were also fortunate enough to secure an interview with the CEO and Founder of Hanabee, Eric Cherry and were able to ask him some really interesting questions about the company. You can view the video here.
The Cosplay Competition was also most probably the most popular event of the day with the convention centre feeling almost completely empty whilst the competition was taking place. The Cosplay Competition had a great turnout and was filled with lot's of awesome cosplays, you can check out our photo's here. It was also around this time that we filmed the interview with the amazingly awesome Ardella (who's Facebook page you can check out here), which turned out really well. We hope to see more amazing costumes from her in the future. Also, be sure to check out our interview with her here.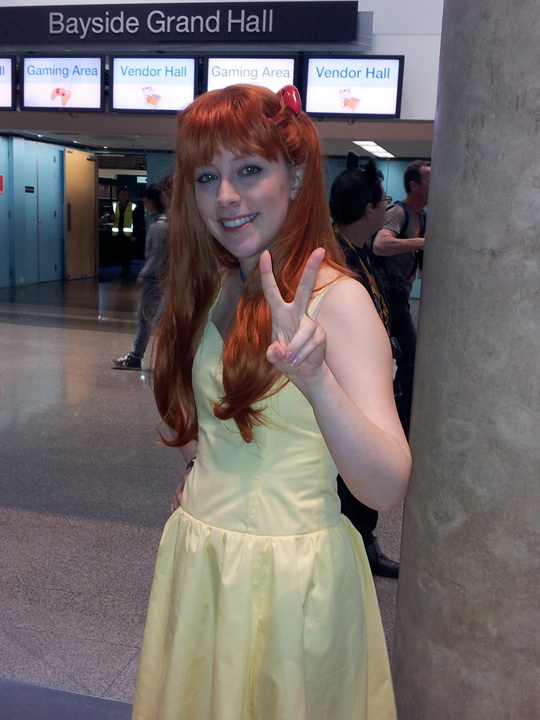 The last point I want to talk about is how co-ordinated all of the staff were at this event. Unlike that other convention that is really big (not that one, but it's a contender), the staff at this event were very informative and knew their roles well. I honestly don't think I've heard any complaints about the staff at SMASH! ever, and this years show was the perfect example of why. There was also plenty to do throughout the day, one such example of this is the Gundam workshop. You can check out our coverage for that here. Another example was the Gunpla world championship, which you can check out here.
Overall, I quite enjoyed this year SMASH! offering and it has really proven itself to be the strongest Anime convention in Sydney. I'm really hoping that SMASH! are able to continue their streak of greatness and pull another excellent convention of this type next year. Be sure to check out all of the awesome photos of excellent cosplayers taken at the even throughout the day.
Be sure to check out the official SMASH! website and our SMASH! 2012 section here on Capsule.