At SMASH! this past weekend, there was an awesome panel on the Steampunk subculture; how it relates to cosplay and to it's own fandom. The panel was a very informative session that highlighted a few of the nuances of characterisation within the costumes. It was also a nice look at a subculture that I've only really enjoyed through looking at pictures and was surprised when there was much more to it than I initially suspected.
For the majority of the panel, we were shown various ways in which we can create our own Steampunk characters to wear as a costume. We were also told of regular Steampunk events, where to buy items and accessories for costumes and a lot more. I also really liked how the panels hosts included the audience in most of the topics covered during the panel.
What I really liked about the panel was the emphasis on creating original ideas, even if you are basing your own Steampunk costume on an existing character. This was actually one of the first things covered in the panel, the fact that you can enjoy Steampunk whether you're doing you're own original creation or if you're doing a known character.
During the panel there was an emphasis on how doing a Steampunk costume has more freedom in comparison to standard cosplay as it's all about interpretation. Unlike cosplay, Steampunk is not limited by a preset design. For example, a cosplayer will have to get a character mostly right to be recognisable, whilst a Steampunk costume will only need to be derivatively similar for the same effect.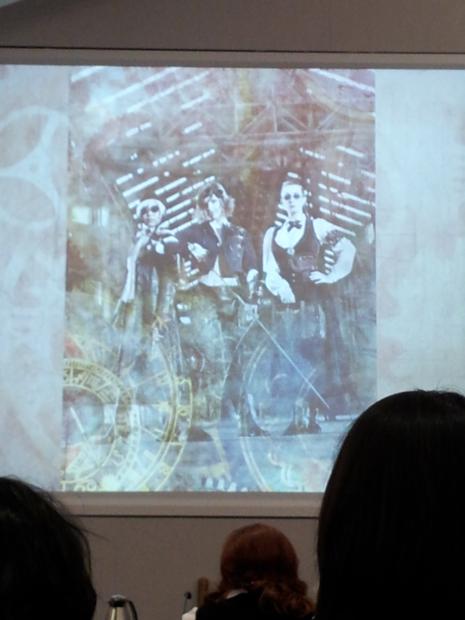 I also liked how the panel served as a kind of tutorial on making your own costumes. There was a distinct emphasis on functionality of clothing and accessories over aesthetics. Although there is nothing wrong with having a fully aesthetic costume, it may become hard for the audience to distinguish the kind of job your character is portraying. There were a few examples shown of aesthetic and functionality and what kind of character you want to portray is entirely up to you.
The panel ended with a Q&A session in which there were a few interesting questions asked. This session also proved the knowledge of the hosts in this area and they returned each question with amazingly informative answers. Props to the two ladies.
The panel was a joy to watch and the hosts Echoing-Artemis (pictured) and Varia were amazing hosts. They knew how to make the crowd feel involved and also displayed an amazing amount of knowledge. This was definitely one of my favourite panels at the convention.
Be sure to check out the official SMASH! website and our SMASH! 2012 section here on Capsule.