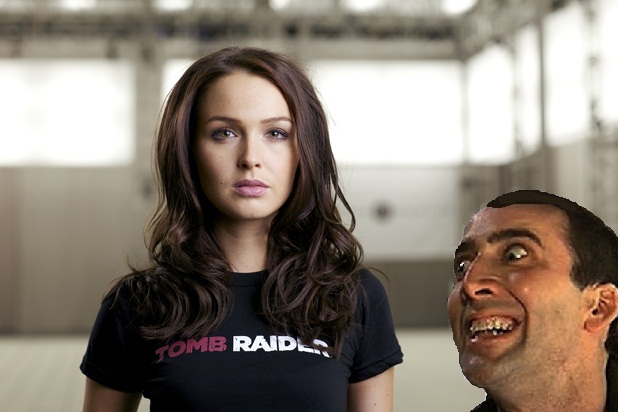 So we now know who is the voice of Lara Croft in Tomb Raider – Camilla Luddington. I for one think she will do a good job because she seems to be quite used to playing sexy women, after all it is a role she plays everyday… in real life. Heck even Capsule's Ghost Editor in Chief MasterCage is excited to see Camilla voicing Lara. Err.. maybe a little to excited Nic…
Other than that, we got to head to the OZ Comic Con 2012 for the first ever Comic Con in Australian history. Unfortunately MasterCage was too busy ogling Camilla Luddington to make an appearance at this historic event. Thankfully there was a bunch of great guests to make up for his absence.
Here what made headlines this week:
Gaming News:
– Sexy Camilla Luddington is the new voice of Lara Croft
– 5 reasons to spend more money
– Spec Ops: The Line Pre-Launch Party Impressions
– RE: The Wii U's Power Problem
– Wii U will not charge for online play
– Is Resistance Over? Sony has no plans to continue the series
Pop Culture News:
– 60's fan film is better than the new Spider-Man film
– Willow Shields Panel at Oz Comic Con 2012
– Fran Kranz Panel at Oz Comic Con 2012
– Patrick Stewart and Daniel Stewart Panel at Oz Comic Con 2012
– Sean Maher Panel at Oz Comic Con 2012
Anime/Manga News:
– Madman Supanova Perth 2012 Announcements
– Anime to Watch Before You Die
– Viz Media reveals Neon Alley, streaming service for gaming consoles
– Gurren Lagann 5th Anniversary
– Sword Art Online Preview Trailer
– Funimation's Anime Expo 2012 Acquisitions
– Evangelion 3.0 Release Date Announced
Reviews:
– Honey and Clover Complete Collection Review
– RayStorm Review
– When They Cry II: Solutions Review
– Magic the Gathering: Duels of the Planeswalkers 2013 Review
– LEGO Batman 2: DC Super Heroes Review
– Shrek's Fairy Tale Kingdom Review
– Steel Batallion: Heavy Armor Review
– Yesterday Review
– Marvel Pinball: Avengers Chronicles Pack Review
– Sonic Underground: Rock On Review
– Honey Darling Review
– Quantum Conundrum Review
– Ether Vapor: Remaster Review
– Voltron Force: Powers Unlocked Review
– 7 Wonders II Review
– Katy Perry Part of Me Review
– Hetalia: World Series Part 2 Review
– Golgo 13 Part 1 Review
Podcasts:
– Anime Say! Episode 13 – What Makes an Anime 'Great'?
See you next Sunday for the CC Weekly Recap.