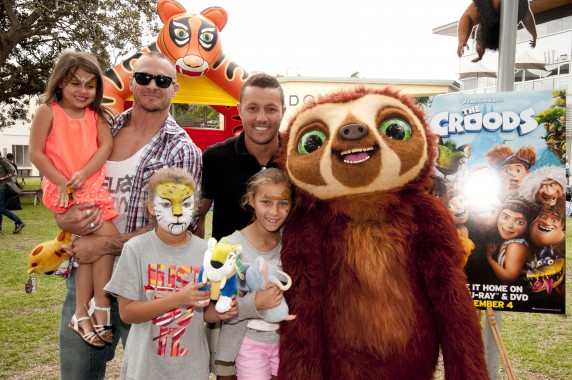 National Rugby League legend Scott Prince has launched National Dads & Daughters Day to celebrate the release of DreamWorks Animation's The Croods on DVD and Blu-ray on December 4.
To launch the day, Prince hosted a fun picnic in Sydney's Entertainment Quarter, which was attended by many, including some of Scott's NRL friends, one of which being Matt Cooper (pictured above). Also a children's author and devoted father of two girls, Prince has compiled a list of parenting tips for all Dads out there to heed in order to build a stronger bond with their daughters. You can download them in PDF format here. Prince doesn't mean to insult fathers of the world, but notes that dads often spend more time with their sons than daughters; "perhaps they think that they have more in common with their boys, or maybe they're just a bit intimidated by 'girls stuff'".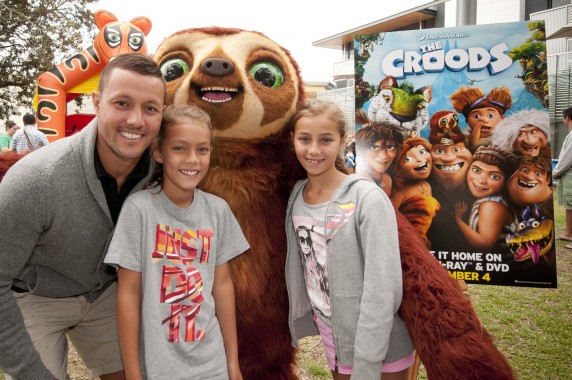 Prince said of his involvement with the event and initiative;
The relationship with her dad is one of the most important in a little girl's life. A National Dads & Daughters Day is a wonderful idea, because it will focus us blokes on what really matters. I'm looking forward to hosting The Croodilicious Dads & Daughters Picnic at Heritage Park, but this is intended to be a national day and we're asking dads all over to Australia to make that extra special effort on Saturday November 30th.