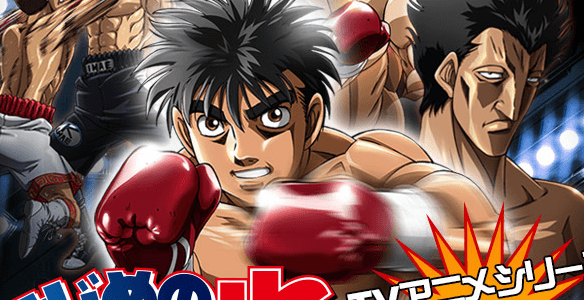 There are so many sports Anime series' floating around in this day and age but, in my opinion, no other title blends sports, comedy and all out fighting action as well as the Hajime No Ippo series does. It's obvious that I'm a big fan of the series so you can understand why I'm so damn excited about the next installation of such a fantastic title. Hajime No Ippo: Rising will be the next in the series and, I suppose, will continue off of the season that came before it. The cast for the upcoming series was just announced and we have the small list for you right below, all will be reprising their Hajime No Ippo roles from the seasons that came before this:
Rikiya Koyama as Mamoru Takamura (Bleach, Coyote Starrk. HunterXHunter, Ging Freecss.)

Daisuke Namikawa as Manabu Itagaki (FMA Brotherhood, Young Hoenheim. HunterXHunter, Hisoka.)

Keiji Fujiwara as Tatsuya Kimura (JJBA, Esidisi. FMA Brotherhood, Maes Hughes.)

Kohei Kiyasu as Ippo Makunouchi (The Prince of Tennis, Kaoru Kaido, etc.)

Wataru Takagi as Masaru Aoki (Naruto Shippuuden, Tobi. One Piece, Vander Decken.)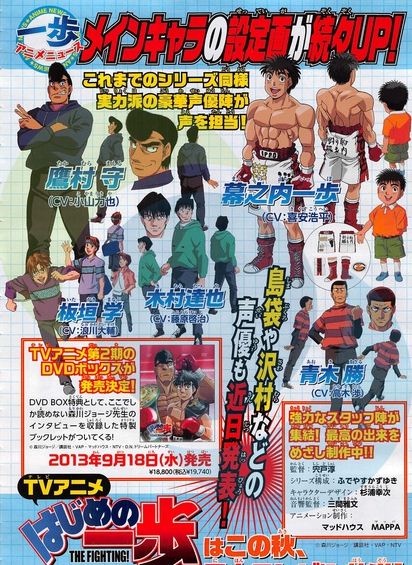 Not only have they released who will be doing the voice acting of the series, they've also released information on who will be working on the animation itself: Jun Shishido (Hajime No Ippo: New Challenger) will direct the anime based on scripts by Kazuyuki Fudeyasu (Hajime No Ippo: New Challenger). Koji Sugiura, who worked on the original Hajime No Ippo series, will be designing characters and Masafumi Mima (Hajime No Ippo – Champion Road) will be taking the position of sound director. As you can see the staff and cast are great, having people who have worked on this series and it's branches before is a great decision that will not go unnoticed. I'm very excited for this release next season and you should be too! Keep an eye on the site for any and all new and upcoming news.