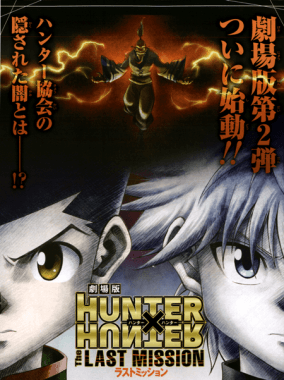 The first trailer for the second Hunter x Hunter film, Hunter x Hunter: The Last Mission, has been released. The trailer is rather scarce on details of the film, but does highlight several characters who are set to appear as well as further detailing the plot of the movie.
Hunter x Hunter: The Last Mission focuses on the inner struggle of the light and dark sides of the Hunter Association. The plot is a non-canonical original work, unlike Hunter x Hunter: Phantom Rouge which had it's scenario written by series creator Yoshihiro Togashi. At this point it is still unknown of Togashi will have any involvement on the production of The Last Mission.
You can check out the trailer for Hunter x Hunter: The Last Mission below. The anime film is set to premiere on December 27th, 2013 in Japan.