Extra information regarding the Modern Warfare 2 DLC
As your already aware Robert Bowling AKA fourzerotwo posted something nice on his twitter update today!
"http://www.mapathy.com – Feeling the effects of Mapathy? It's okay, the cure is hitting #Xboxlive in just 3 short weeks. #MW2″
–
So March 30th it is! OMG, I am so excited.  No other news has been given so far, maybe some more later on this week.
Also other big news from the twitter feed is the patch for the matchmaking update for the Xbox360 is supposedly coming before the DLC is released.  Can you imagine never (or rarely) having to play in a dirty 1 red bar/2 yellow bar match again!
That's it for now, only 2 more nights until the Capsule Computers MW2 Community night – hope to see alot of you there.
Click in the image below for more details on the Community night 🙂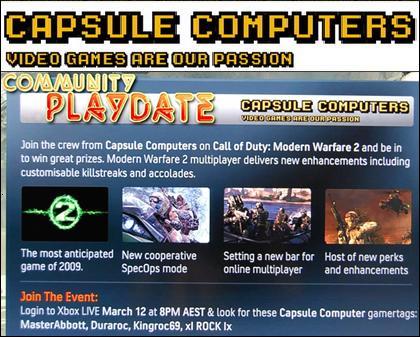 Hope to see you all there on the night !! remember WE HAVE PRIZES TO GIVE AWAY !!!
@DuraRoc