Hey Everyone,
Well it's now official, if you have recently checked out the XBox360 Dashboard and you live in AU/NZ you will have seen the page added to Community and Spotlight.
Here it is, looks pretty sexy I reckon.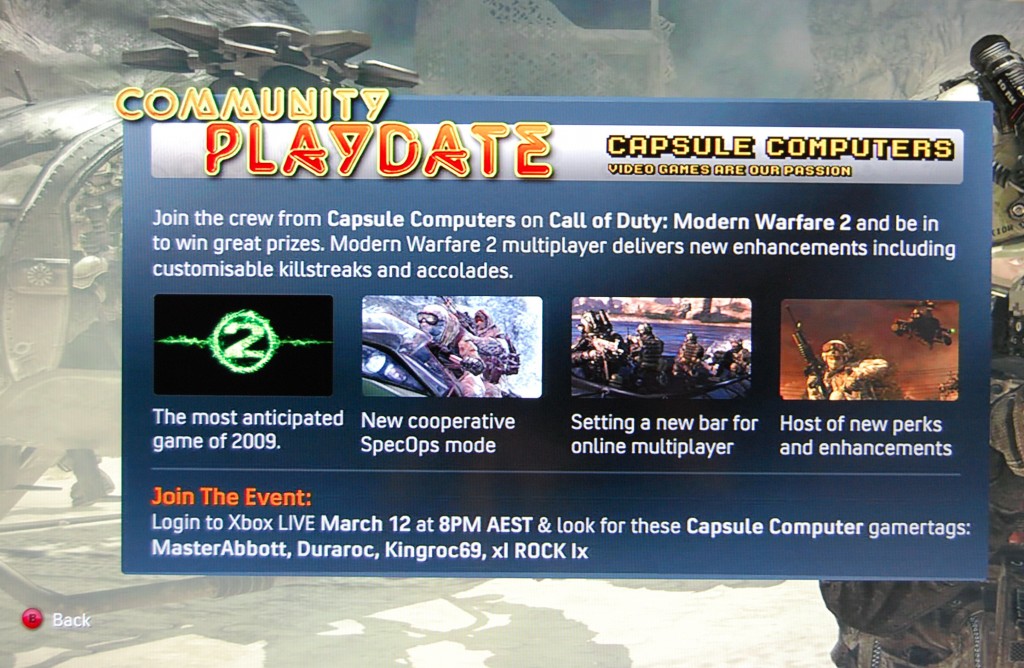 So you know what happened after this went up – we all started to get Friends Requests, messages, questions etc. about the night.  I was a bit freaked out there at the start, logging onto my XBox and seeing 23 messages.  I thought What The….!  I didn't actually think that many people participated in the community nights, but again I have proved wrong.  This just goes to show how strong the Xbox360 Community is.
xI ROCK Ix started to giggle uncontrollably in the first lobby we played together and his tubing that match was disgusting!  KingRoc69 just took it in his stride and said he was all excited, he just hoped no one steals his care packages that night!  MasterAbbott decided to join us for 5 minutes and have some fun, though he didn't go 0-11 he did pretty bad.  Me?  I just boosted!
So I have added everyone who sent a friends request and I hope to be able to play with all of you next Friday 12th March.  Our friends list may fill up over the next few days, try someone else if that happens to you.  Or just send a message saying the list was full but you still want to play on Friday!  Still don't know what we are going to do in regards to game types, again any suggestions?  With the amount of people interested, it looks like we may have to setup 2 or 3 lobbies, but again, we will know closer to the date.
A couple of questions to answer that we get alot of.
Q:  How did you get on the Community Page.
A: We asked!  Seriously, you obviously have to have a community site and be willing to put the time into it all – then ask Microsoft and if you fulfill the requirements you can also get onto their Community page.
Q: What prizes are up for grabs on the night?
A: We have some XBLA games, 1500 MS Points, some PC Steam games and maybe some other random stuff – someone can even have my Final Fantasy XIII poster I picked up the other night!
Q: How do we win the prizes.
A: My first response to this is, don't piss us off!  HAHAHAHA, really, just be yourselves – the prizes won't just be going to the best players (if at all), they might go to someone who makes us laugh, someone who helps out on the night, someone who is being someone (err.. does that make sense?), someone who gets this wierdo kill.  Just play and have fun!!
Q: Who is the cutest of the Capsule Computers crew ?
A: Well MasterAbbott would say himself.. but I tend to disagree, it has to be KingRoc69!
That is it for now.  Remember 8pm-11pm 12th March Australia Eastern Daylight time – Time to get tactical!
@DuraRoc
If you have any questions leave a comment below and we will do our best to answer them as soon as possible.