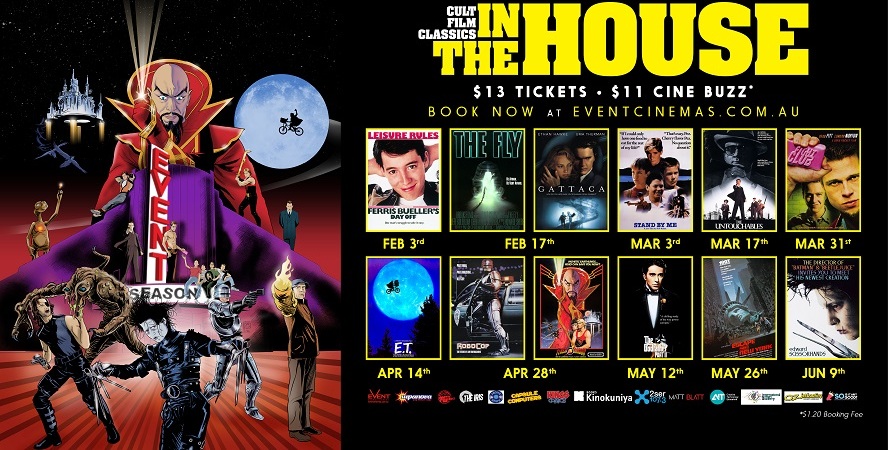 The charming folks over at In The House just announced their new line-up for the upcoming Season 0.1. We've reviewed the last couple of seasons and had a grand old time watching everything from Boyz N the Hood to Aliens. Season 0 of 2016 isn't quite over yet and they're still doing screenings of From Dusk Till Dawn next week and Gremlins on the 16th of December.
Here is the list of films which are in the current line-up:
Ferris Bueller's Day Off (1986)- February 3rd
The Fly (1986) & Gattaca (1997)- February 17th
Stand by Me (1986)- March 3rd
The Untouchables (1987)- March 17th
Fight Club (1999)- March 31st
E.T. The Extra-Terrestrial (1982)- April 14th
Robocop (1987) & Flash Gordon (1980)- April 28th
The Godfather Part II (1974)- May 12th
Escape from New York (1981)- May 26th
Edward Scissorhands (1990)- June 9th
We have been fans of the In the House screenings here and have quited enjoyed going to watch their screenings of various cinema cult classics. We look forward to seeing the new lineup they've announced here with The Godfather Part II and Fight Club being particular favourites of mine. It's great to watch these films up on the big screen, as they were originally created for, and I have no problem giving my recommendation for anyone who might be interested in going to see one of the screenings.
You can find tickets to all of the above screenings here and watch a teaser for the season below.