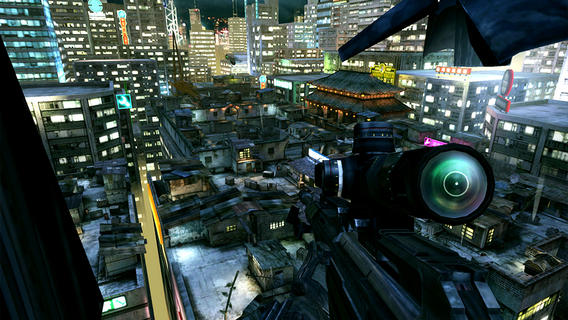 Welcome back for this week's iOS Game Suggestions. If you missed last week's, or are new to the suggestions, click on the link below and check out what cool games you should be picking up for your iOS device along with the introduction on how the suggestions work. (suggestions 1 has how it all works)
MasterAbbott's iOS Game Suggestions
A great week on iTunes! As always, it started slow and but ended with a bang! There are many must-buy games this week in all departments, FREE, 99c and over 99c. This week I've suggested a total of 13 great quality titles. Make sure you check them all especially… Call of Duty: Strike Team, 2K Drive, Rooms Of Memory, Giant Boulder Of Death, Gods VS Humans  just to name a few.
Break down below :
7 – FREE Games
2 – $0.99c Games
4 – Over $0.99c Games
As always for this week's suggestions are all new titles that you should take a look at and consider spending your hard earned iTunes cash / time on.  Well the Free games just below certainly should all be given a shot as they won't cost you anything!
For The Cheapskates – FREE GAMES
 

MASTERABBOTT'S FREE GAME PICK OF THE WEEK!

Giant Boulder Of Death – Price : FREE – Publisher – Adult Swim (When a boulder holds a grudge, no one survives. Bowl your way down the mountain and destroy everything in your path. Crush villages, cars, yetis, golden cows, crush everything! From the creators of Robot Unicorn Attack 2 and Monsters Ate My Condo!) on iPad & iPhone. GET IT NOW FOR FREE

 
Rooms Of Memory – Price : FREE – Publisher –

Chillingo

 (Seek out the professor's trinkets and uncover the Bellows' family secret. Explore the grounds of Bellows Manor after the professor mysteriously disappears. Piece together his scientific legacy to unravel the mysteries of his vanishing…and more!

) runs on iPad & iPhone.

GET IT NOW FOR FREE

 
Supermarket Management 2 – Price : FREE – Publisher –

G5 Entertainment

 (The long-awaited sequel to Supermarket Management has just hit the shelves!
Do you have what it takes to run a busy supermarket? Now you have a chance to show everyone! Become the manager of a small roadside shop and end up as the owner of a competitive grocery chain in this addictive time management game

) runs on iPad & iPhone.

GET IT NOW FOR FREE

 
Wordly – Price : FREE – Publisher –

Scopely

 (Claim as many letters as you can by finding words, rule the board, and beat your opponent! Awesome features include: Play dozens of games at once with friends and family anywhere in the world. Enjoy riveting single-player action in Wordly's challenging "Play the Greats" mode, where you're pitted against historical greats such as Shakespeare, Einstein, and Count Dracula

) runs on iPad & iPhone.

GET IT NOW FOR FREE

 
Robo Quest – Price : FREE – Publisher –

Pocket Gem Publishing

 (Reunite Kye with the love of his robot world – embark on this endless platform shooting quest! After watching his girlfriend be snatched away by an evil green villain, Kye sets out to get her back. You maneuver Kye through RoboQuest, the 2D side-scrolling/shooter game. 

) runs on iPad & iPhone.

GET IT NOW FOR FREE

 

Fishdom 2 – Price : FREE – Publisher – Playrix (Fishdom fans rejoice! Get ready for the highly anticipated match-3 sequel to the original Fishdom. Swap colorful tiles and earn money to create the aquarium of your dreams. Let your imagination run wild as you unlock and decorate 4 uniquely-themed tanks. Feel like setting up a ranch, travelling back in time to Ancient Egypt or recreating Merworld in your tank?) on iPad & iPhone. GET IT NOW FOR FREE

 
Pearl's Peril – Price : FREE – Publisher –

wooga

 (Get swept back to the romantic and sordid 1930's along with our trailblazing heroine, Pearl Wallace, ace pilot and world explorer. Travel the world, uncover a global conspiracy, and navigate a chilling mystery you wont soon forget!

) runs on iPad.

GET IT NOW FOR FREE
For The Bargain Hunters – 99c Games
| | |
| --- | --- |
|   | Stickman Downhill – Price : $0.99 – Publisher – Robert Szeleney (Experience ultra realistic and fast paced action packed downhill biking in stunning environments. Choose from more than 15 different bikes, including full suspension bikes, retro bikes or even electro bikes. Bike in various different locations, ranging from tracks in deep forest to mountain tracks high up in the air. All bikes are unique designed with stunning realistic physics. ) runs on iPad & iPhone. BUY NOW |
| | Alphaman – Price : $0.99 – Publisher – The Awesome Game Studio (In Alphaman, players will have hours of endless, educational fun as they explore with Alphaman across eleven different maps such as Classic, Garden, Fire, Alien Spaceship and more to find letters and earn rewards for correctly spelling the words.) runs on iPhone & iPad. BUY NOW |
For The Millionaires – All games over $0.99
MasterAbbott's over 99c Pick Of The Week!

Call Of Duty: Strike Team – Price : $7.49  – Publisher – Activision (Call of Duty®: Strike Team delivers an all-new, first-person and third-person Call of Duty® experience built from the ground up for mobile and tablet devices. Fully customize your squad's loadouts and abilities before leading them into combat in diverse gameplay environments. Call of Duty®: Strike Team features the revolutionary ability to dynamically switch from run-and-gun first-person view to reconnaissance and coordinated squad attacks in third-person view.) runs on iPhone & iPad. BUY NOW

 

2K Drive – Price : $7.49  – Publisher – 2K Games (Buckle-up and get ready for the most immersive automotive experience to ever hit your iPhone & iPad. 2K Drive provides you with a variety of experiences to test your driving skills – including licensed cars, real locations and dozens of exciting challenges in an authentic world rooted in motoring culture.) runs on iPhone & iPad. BUY NOW

 
beHEXed – Price : $1.99 – Publisher –

BBG Entertainment

 (beHEXed will inspire you! You have to solve many different puzzles. Solve each puzzle by placing all different puzzle pieces (Poliamonds) inside the marked playing area. Do not overlap puzzle pieces and be sure that the whole playing area is covered.

) runs on iPad.

BUY NOW

 
Gods VS Humans – Price : $1.99 – Publisher –

Microids

 (Protect the Heavens and be respected by humans! Humans are building a tower to reach the Kingdom of the Gods! Embody one of these divinities to foil their attempts. But, be careful not to kill them with your special powers, because your survival depends on their devotion! ) runs iPad. BUY NOW
There you have it folks these games should keep you busy for quite some time well until next week at least. I'll be back next week for another dose of iOS goodness, in the meantime if you would also like to suggest your own suggestions, please feel free to share them in the comments section below or in the iOS forum section on the site here.
Remember kids, Play Hard Or Don't Play At All!