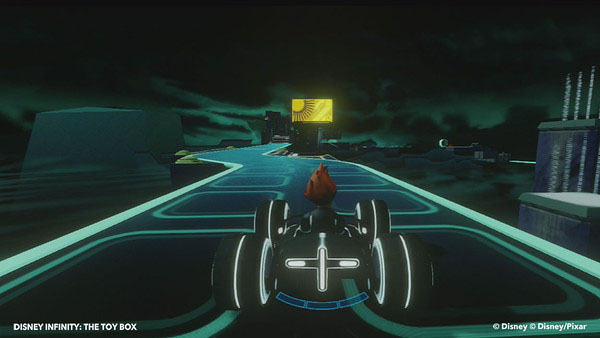 Since Disney Infinity's Toy Box Submission Contest was a resounding success, the folks over at Disney have decided to do it again. This time, players are tasked with designing the best (and most extreme) sporting arena in the Disney Infinity Extreme Sports Challenge. So get your creative caps on players, and start designing the most radical (do people still say radical?) sporting arena you possibly can!
To help get the creative juices flowing, Disney have also released another five free Toy Boxes for players to download and try out. This time the Toy Boxes are;
Tron Highway – Race a Light Runner, battle enemies, navigate mazes and find hidden paths to get to the end of the broken highway.
Sugar Mania – Take King Candy's Royal Racer for a sweet spin on a Sugar Rush-inspired racetrack.
Monster Rally – Pull off a series of tricks in a side-scrolling stunt show spectacular.
Cosmic Platformer – Compete with friends on an obstacle course that's out of this world.
It's a Trap! – Pay close attention to get through these puzzling rooms. Beware of traps and double jumping!
As of now, this brings the total number of DLC maps up to 25! What a huge number, and there are many more to come down the line. You can check out the other four previously released map packs here; Map Pack 1, Map Pack 2, Map Pack 3, Map Pack 4.
So will you be entering the Toy Box Challenge this time round? Let us know in the comments below, and if you haven't done so already, check out our review of Disney infinity here. As always, remember to stay tuned to Capsule Computers for all the Disney Infinity news as it becomes available.