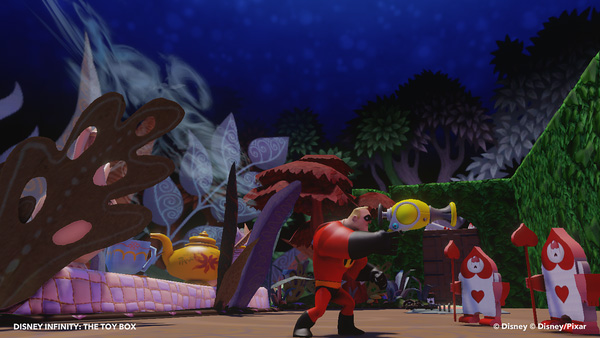 Disney Infinity has been out for a few days now, and players all over the world are ripping open Power Disc packs, putting figures on the Infinity Base, playing through the play sets and spending countless hours in the massive Toy Box. That Toy Box is about to get a whole lot bigger though as users can soon share their own creations online for the community to enjoy.
In preparation for the User-Generated Content (UCG), Disney have prepared five themed toy-boxes for players to download and try out completely free. The Toy Boxes are available on the Xbox 360, PS3 and Wii U versions of the game, and include;
Wonderland Maze – Fall down the rabbit hole and fight through this Alice in Wonderland maze. Take on obstacles and enemies at every turn.
Medieval Arena – On guard! Transport to the Middle Ages and joust opponents on horseback — or atop an elephant.
Tron Vs. Sugar Rush – Tron and Wreck-It Ralph collide! Challenge friends on a high speed race through The Grid and Sugar Rush.
Happiest Place – The Happiest Toy Box on Earth! Experience the magic of this Disneyland recreation shown at the D23 Expo.
Floating Castle – Soar high above and take in the view! Rail grind up into a Floating Castle and battle friends for the throne in this royal Toy Box.
Pretty wild hey? If you have already gotten your hands on Disney Infinity then get to downloading these bad boys and trying them out! If you haven't, because you have been waiting for our review, then don't worry! Our review will be up in the next few days, including an in-depth look at all of the available Play Sets. So for all the Disney Infinity news as it becomes available, stay tuned to Capsule Computers.