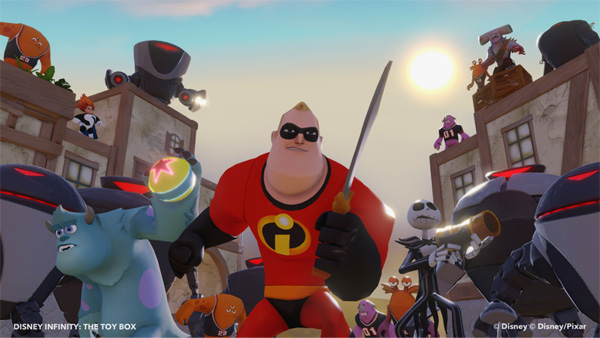 Last week, to celebrate the launch of Disney Infinity, and to pave the way for the upcoming Toy Box sharing, the folks over at Disney were kind enough to produce 5 themed Toy Boxes for players to download free of charge. Today we are lucky enough to receive an additional 5 maps for you to play in, customise and make your own.
The five Toy Boxes are all very different from one another and are a great example of the sheer number of things you can do in Disney Infinity's Toy Box Mode. The maps are as follows:
Cave of Wonders Race – Race through the Cave of Wonders and Aladdin's Agrabah Castle. Compete against Cars characters or other players!
Super Sidescroll – Trigger the side scrolling camera to start. Then jump and bash through a classic game level.
ESPN Speedway – Rev those engines! Race friends around the stadium loop, brake for a pit stop and celebrate with a victory lap.
Hot Lava – Rope bridges are the only thing between players and flowing lava in this treacherous Toy Box.
Wrestling Arena – Want to become the Disney Infinity combat champ? Battle friends in two tricked out wrestling rings.
These awesome maps are all available right now, so if you own Disney Infinity then boot up your game and get playing! Which map are you most looking forward to playing? I am a huge fan of the Cave of Wonders Race, but let us know in the comments below what you think. Remember that for all the Disney Infinity news as it becomes available, stay tuned to Capsule Computers.