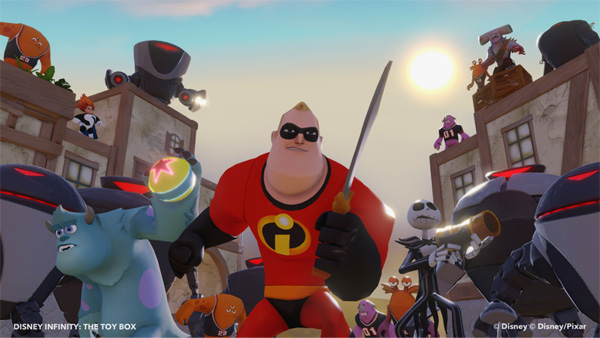 It seems like the sheer amount of stuff you can do in Disney's upcoming game is almost endless. From making your own worlds and games in a detailed sandbox mode, to using the magical storytelling and characters that only Disney could come up with, it really does sound like a game that has limitless potential. I guess that is why the game is being called Disney Infinity.
Previously we have been shown how Disney Infinity's Toy Box, Play Sets and Power Discs will all operate on their own, but today we are given quite the treat, as we get to see how all of the Disney Infinity features come together and result in a chaotic, wild and unbelievably fun experience.
Today, in the latest trailer for Disney Infinity, we get to see how combat will operate. Mike helping Mr. Incredible fight off Omnidroids by hitting them with a shrink gun. The Lone Ranger and Sully jousting one another, or even Jack Skellington sword-fighting against Razoul (the guard from Aladdin). It is all possible in Disney Infinity.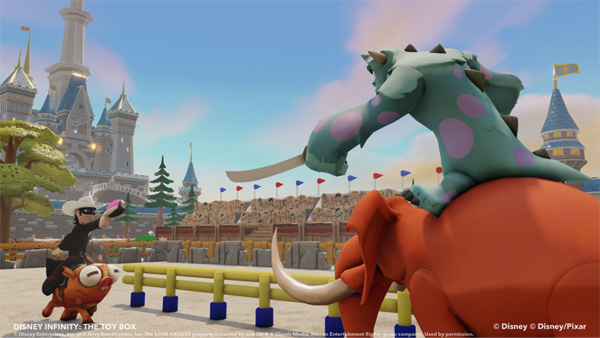 Check out the trailer below for all the chaotic battles I just mentioned, plus a tonne more. The eagle-eyed viewer will also notice that I mentioned Jack Skellington. Much like Wreck-it-Ralph, the Pumpkin King is now on the list of characters who are kinda-confirmed-but-not-actually-confirmed. So that is something to be excited about.
Disney Infinity will be launching in just three weeks on August 22nd (August 18th in America) on PS3, Xbox 360, WiiU and 3DS, so be sure to stay tuned to Capsule Computers for all the news as it becomes available.