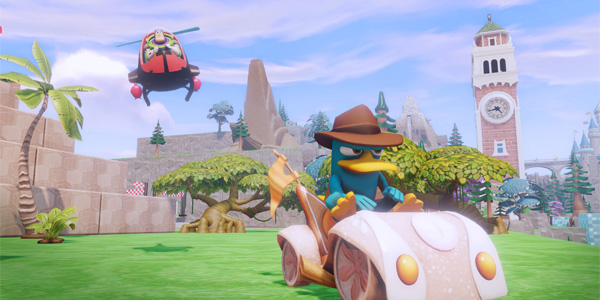 Disney Infinity is a little under a month away from release, and up until this point, the focus of promotion has been how the Toy Box Mode and Playsets will operate. In all the talk, one important feature had yet to receive its turn in the spotlight; The Power Discs.
Disney Infinity's Power Discs have been mentioned before, but never described in detail. There are two types of power discs; Circles and Hexagons. Circular discs are stacked under the character figures and provide bonuses. Up to two power discs can be stacked at a time, and bestow their bonuses for as long as they are active. Some discs will even combine their powers and create a third, unique ability.
Hexagonal Power Discs on the other hand are used to unlock toys, vehicles and scenery for Toy Box Mode. Again, up to two power discs can be stacked at any given time, and will unlock such vehicles as the Pizza Planet Delivery Truck, or the Dumbo the Elephant ride from Disneyland. Other Power Discs will allow you to change the scenery and backdrops to resemble various famous Disney properties, such as; Wreck-It Ralph, Tron and Nightmare Before Christmas.
Each Starter Pack will come with one random Power Disc, with others being obtainable via sealed booster packs. There will be twenty power discs available at launch through these boosters. The contents of each booster is random, so I expect there will be a lot of collecting and trading with friends to complete sets. Disney have generously provided a trailer, which you can check out below, that details some of the Power Discs.
With only a few weeks until Disney Infinity launches on PS3, Xbox 360, WiiU and 3DS, are you excited? Let us known in the comments below, and for all the Disney Infinity news, stay tuned to Capsule Computers.