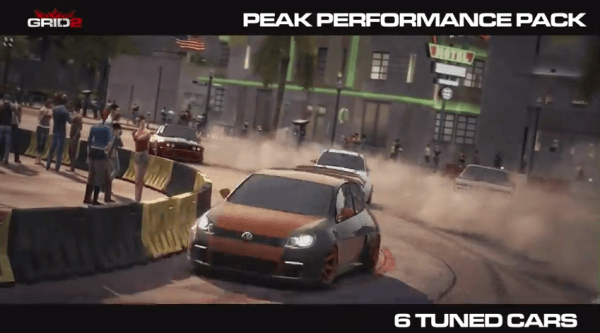 GRID 2, the high-speed racing game from Codemasters, announced the launch of their newest DLC, the "Peak Performance Pack," today. The new downloadable content is available on Xbox 360 for 400 Microsoft Points and for PlayStation 3 and PC for  £3.19 / $4.99 / €3.99.
The Peak Performance Pack comes with maxed-out versions of six cars:
Dodge Charger RT – Stiffer suspension, wider wheels and aggressive camber improve traction whilst additional power under the bonnet, an extra gear and stripped out weight improve top speed and acceleration
Ford Mustang Mach 1 Twister Special – Improved aerodynamics reduce drag, bigger brakes reducing braking distances and engine improvements increase acceleration and top speed
Chevrolet Camaro Z28 RS SS 1970 – A re-mapped engine adds more horsepower and torque, reduced mass and inertias give the car more responsive steering and a lower centre of mass and stiffer suspension improves traction and reduces body roll
VW Golf R – An engine upgrade boosts acceleration and top speed, a lower roll centre and lower centre of gravity improves traction and its revised differential setup minimises understeer
BMW E30 M3 – Comes equipped with a racing clutch to reduce shift times whilst it's re-mapped engine and stripped out weight improves top speed and acceleration
BMW 1 Series M Coupe – With a huge 150kg stripped out, this BMW's stiffer suspension and increased camber improves traction and longer gear ratios increase top speed
To coincide with the new DLC, Codemasters has also released a new trailer showcasing the new cars. Be sure to check it out in the video player below this article. You can also check out their official Grid 2 website here.