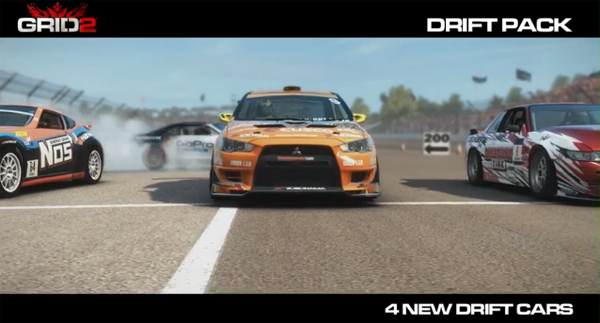 Two weeks ago when Codemasters released the awesome Super Modified Pack for Grid 2, I was running on empty when it came to my car-themed puns. However, just as I thought I could pull into the pit stop for a tune-up, the makers of Grid 2 and Colin McRae Rally pump out another awesome DLC pack, and I am forced to turn my key and hit the speedway once again.
Grid 2's latest DLC pack is known simply as the "Drift Pack" and comes equipped with four special edition cars as standard (a Car ADD pun? really?). Each of the included cars have been driven by legends of racing and has been customised by some of the world's best drifters (no, not people who keep going from place to place, racers who specialise in drifting). The customisation  has made these cars deliver an absolutely unrivaled drift and race experience across all of Grid 2's game modes.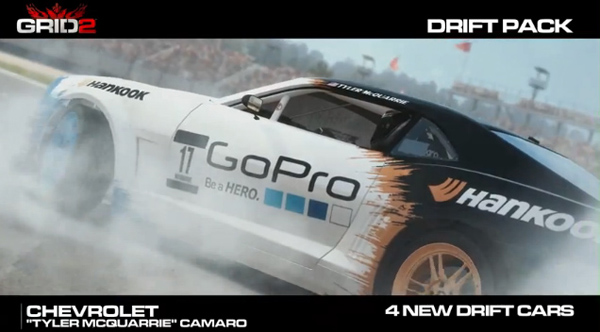 The cars included in the drift pack are:
Daijiro Yoshihara Nissan 240sx (s13) – This 650bhp Nissan was raced to victory in the 2011 Formula Drift Championship by Daijiro 'Dai' Yoshihara.
Team Orange Mitsubishi Evo x – Converted from 4WD to FWD and weighing just 1290kg, its 2.3 litre engine with JUN AUTO custom kits pumps out 570 bhp and has been driven by Nobushige Kumakubo, General Manager of Ebisu Circuit.
Chevrolet "Tyler McQuarrie" Camaro

– Powered by a COPO LS-7 V8 which produces 750bhp, this was raced in Formula D by American Tyler McQuarrie.
NOS Energy Nissan 370Z (Z34) – This drift machine weighs just 1297kg and is powered by a Nissan V8 VK56 Titan engine as driven by Chris Forsberg, one of the most successful drivers in Formula Drift history.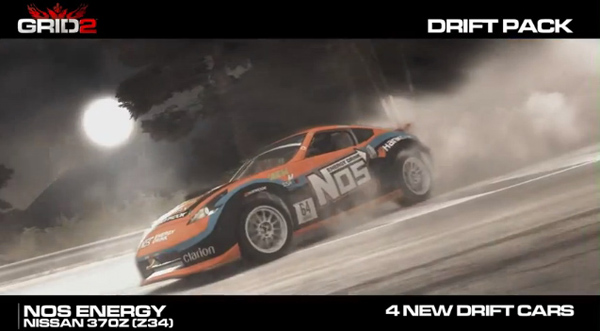 Like I said when the Super Modified Pack was released, I have no idea what a good portion of those words mean, but I can tell you that these cars are fantastic to drive. As you would expect from the "Drift Pack" the cars are especially suited to the twists and turns of the Japanese drifting tracks. You can download the Drift Pack for Grid 2 RIGHT NOW on Xbox360 for 480MSP and on PS3 and PC for $5.99.
While we are talking Grid 2, I is my happy duty to announce that RaceNet, Grid 2's preeminent online system has finally made its way to the iOS App Store. Now you can access the heart and soul of Grid 2 anywhere you are, and check personal, community and friends stats with a simple tap on you mobile screen. Get the app now by clicking here.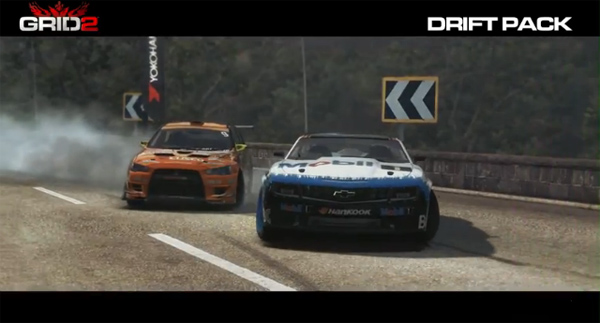 If you are like me and are unsure how sexy the cars in the Drift Pack are simply by reading a few words on a page, then you are in luck! Codemasters have put out a new trailer for their Drift Pack which you can check out below. If you haven't played Grid 2 yet, or are on the fence with whether or not you will buy the racing sim, then check out our review here. If you have the game, or are even thinking about getting it, then downloading the RaceNet App should definitely be your next point of call.
I feel like I have refilled the tank when it comes to my automobile puns, so as usual; for all the Grid 2 news as it becomes available, stay tuned to Capsule Computers.