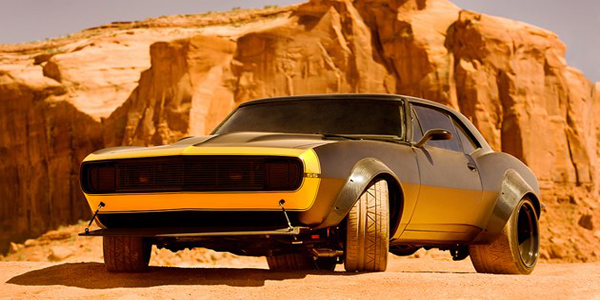 As we reported yesterday, principal photography is now underway for Michael Bay's Transformers 4. During the week, Paramount titillated the fans by showing the vehicle-modes for Optimus Prime and two as of yet unannounced Autobots. Today, we are treated to another of these photos, this time we get to see the T4 interpretation of fan-favourite Autobot, Bumblebee.
Debuting as a 1977 Chevrolet Camaro in the beginning of the first film, Bumblebee quickly underwent a transformation to a 2006 Concept Camaro, which he kept for the remainder of the trilogy. For his latest iteration, Bumblebee will stick to being a Camaro but will be rocking it old-school and driving around as a customised 1967 model. In addition, it looks like his colour palette has been swapped to primarily black with yellow trim.
Only a few days into shooting and although we don't know too much about the plot of the film, we already have four sexy new cars to look at and a lot to ponder over until the film's release on June 26th, 2014. For all the news about the robots in disguise as it becomes available, be sure to like the official Transformers Facebook page here and don't forget to stay tuned to Capsule Computers.