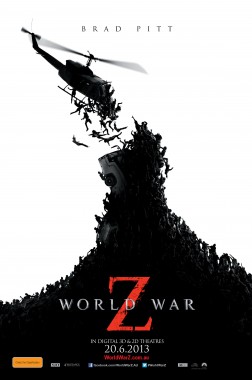 World War Z – the zombie outbreak film based on the novel of the same name by Max Brooks – infects Australian cinemas on June 20th.
Today, we have a brand-new 'first-look featurette' for the film, which features director Marc Foster as he gives a short overview on the story and film on a whole. You can view that clip at the bottom of this article.
For those unfamiliar;
World War Z revolves around United Nations employee Gerry Lane (Brad Pitt), who traverses the world in a race against time to stop a pandemic that is toppling armies and governments and threatening to decimate humanity itself.
Also be sure to watch the first international trailer for the Paramount Pictures action-blockbuster.