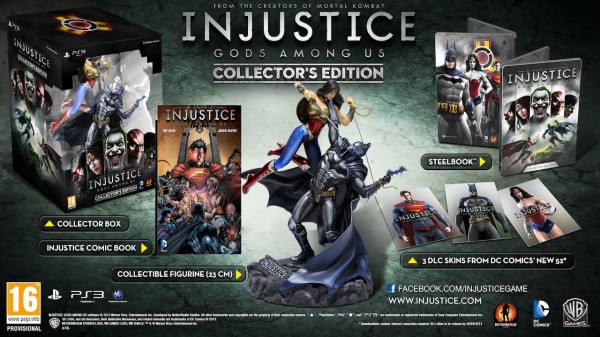 Warner Bros. Interactive Entertainment and DC Entertainment have officially announced the European release date of April 19th for Injustice: Gods Among Us, 3 days after the U.S., as well as detailed the Collector's Edition.
While Warner Bros. Games is releasing various editions as a mirror image of the release of Mortal Kombat, Europe and presumedly other PAL regions will not be receiving the Battle Edition in local stores. The Collector's Edition also features a different statue to the U.S. version, as was the case with Mortal Kombat. The Collector's Edition will set you back £74.99 (€99.99).
The contents of the Collector's Edition can be viewed in the image above, or you can check it out in the gallery directly below along with different box shots. Although the game is also releasing on the Wii U, this Collector's Edition will only be available for the Xbox 360 and PS3.