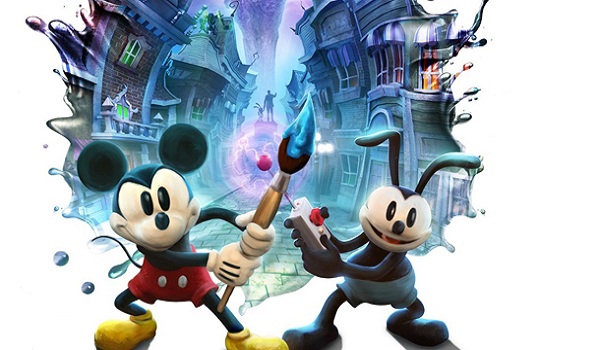 The game is out now and is available on the Nintendo Wii, Xbox 360, Playstation 3 and the Wii U when it releases inAustralia. Epic Mickey: "The Power of Two" revolves around the story of Mickey Mouse as the player takes control of him in a distorted world of Disney, with over 80 years worth of characters and theme rides. Helping him in this quest is Oswald the Lucky Rabbit, who is equipped with a remote control to manipulate electricity, while Mickey himself wields his signature paint brush and thinner, taking and giving colour throughout the world.
"Mickey Mouse is one of the most beloved characters of all time," said Warren Spector, vice president and creative director, Disney Interactive's Junction Point. "I feel incredibly lucky to have been given the opportunity to once again help craft his latest journey and at the same time bring Oswald the Lucky Rabbit back in such an amazing and innovative way, by allowing this once forgotten silent cartoon star to get a voice for the first time in history."
Epic Mickey 2's co-op gameplay focuses around the "PlayStyle Matters" concept, which basically translates into each player using their own abilities separately and in conjunction with each other to explore all possibilities and storylines. With an intensely unique soundtrack created by Emmy winner, Jim Dooley and songwriter Mike Himelstein the game sets out to create the "first-ever video game musical". Also co-written by Marv Wolfman, an award winning comic-book writer, Epic Mickey 2 attempts to draw the player in with both appeals to our emotions and our minds.
"We continually strive to develop interactive content that resonates across Disney's broad fan base," said John Pleasants, co-president, Disney Interactive. "Our goal was to capture the nostalgic feeling that makes the Disney experience so magical, and it is clear that we've accomplished that with 'Disney Epic Mickey 2: The Power of Two' exceptionally well."
Disney Epic Mickey 2: "The Power of Two" is available now for both Playstation 3, Xbox 360 and on the Wii U on December 13th 2012, at $69.95. While the Nintendo Wii version is priced at $49.95 and is also out alongside the Xbox and Playstation versions. The 3DS edition titled Disney Epic Mickey: Power of Illusion has also now seen the light of day, retailing at $59.95 and focusing on the "Castle of Illusion" being taken over by evil witches. But never fear, because Epic Mickey is on his way to win the day again in this title as he works to save the local Toon inhabitants from sure destruction. Compelling stuff.