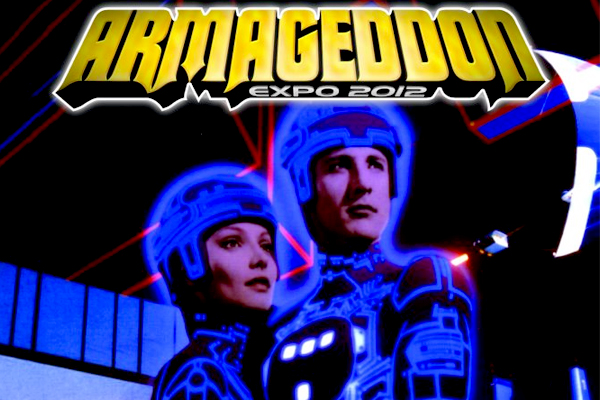 Pop culture conventions are generally a tricky thing – being pop culture, it caters to a whole bunch of differing genres and mediums, thus having to make a balance between all of them. Last June 30, 2012 – July 1, 2012 saw the first Oz Comic-Con in Melbourne heralding the monolithic Stan Lee and venerable Patrick Stewart in attendance – two power houses in their respective areas. Because of this, many across Victoria, and even from overseas flocked to the Melbourne Exhibition Centre to see them, creating many issues and problems and causing many to loudly voice out their complaints.
Seemingly in response to this, another large convention in Melbourne, Armageddon Expo, made an announcement that with their years of experience in running conventions and having listened to attendant's feedback,  they will strive to give quality service and experiences to those who attend Armageddon Expo 2012, which is also held in the Melbourne Exhibition Centre on 13 October, 2012 and 14 October 2012.
Amongst their arrangements is that they have expanded into a 4th bay, which will prove to be the largest Armageddon thus far, providing a larger area for autograph booths and photo booths, wider aisles in between stalls, allowing people to walk about freely, as opposed to the tight aisles and walkways previous conventions have been plagued with. They have also announced that they will be selling autograph tokens and photo tokens online to prevent the massive queuing for said tokens, and reducing overall wait times.
They have also said to feature a number of guests from different mediums and genres, and as each week passes throughout July will reveal more of their roster. As of writing, the following guests have been slated to attend:
Jonny Yong Bosch's band, Eyeshine is slated to play on the closing evening, and what convention is complete without a little cosplay? Cosplay Parades and Contests will be ever present as well as a "
Cosplay Game
" event themed around the Legend of Zelda: Skyward Sword, and celebrating 25 years of the Legend of Zelda.
While this list is incomplete, as July is only half over, and one can only guess as two who the other guests are. As always however, guest attendance is dependent on work and health commitments.
DC Comics and Warner Brothers have also given their sponsorship to the event, giving them a large presence when it opens on October 13.
Tickets for Armageddon go on sale on the 1st of August at 9 am on ticketek.com.
For more information go to http://armageddonexpo.com