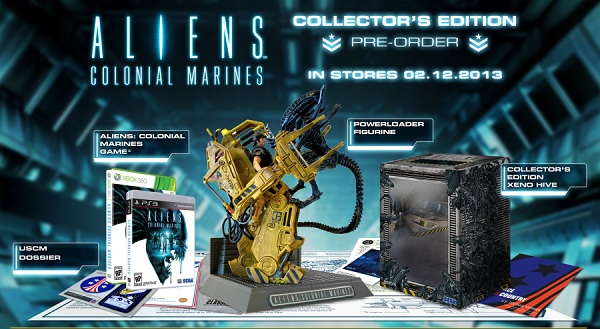 You may remember that a few months ago, an image that supposedly showed all of the contents of an Aliens: Colonial Marines collector's edition appeared online, however at that time SEGA made no comment on the image. Well today the company revealed their own, exact same image along with some details about what you will receive if you choose to purchase the $100 collector's edition.
The package includes:
Resin Powerloader statue.
Four multiplayer characters based on the movies — Hicks, Drake, Apone and Hudson.
Ripley's Flamethrower.
Extra character customization options.
Exclusive weapons — Phase Plasma Rifle and Sonic Electronic Ball Breakers.
Exclusive level — USMC Firing Range.
USCM Dossier — includes mission brief, USS Sephora schematic, Recruitment card, LV-426 recon photo, USCM iron-on badges, USCM graduation certificate.
Xenomorph "Hive" packaging.
This is obviously a very extensive package and from the image above it is quite obvious that fans of the Aliens franchise, or even fans of Collector's Editions will find the $100 price tag rather cheap for what is offered. As shown in the image, potential buyers of the game will have to wait until February 12, 2013 when Aliens: Colonial Marines is released to pick up this nice little package.