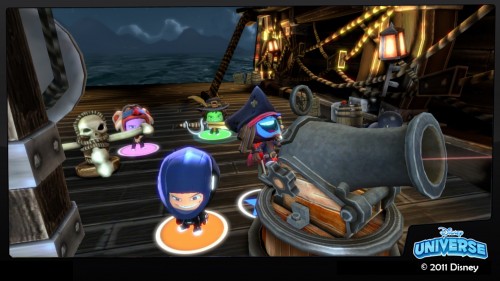 Land ho! Turn her port to starboard, I see something. Arrgh, it's a new trailer for the Pirates of the Caribbean part of Disney Universe. Aye, and just in time for 'Talk Like A Pirate Day'.
Disney have shared news of a Pirates of the Caribbean section on their upcoming game Disney Universe, which brings together the characters and worlds from Disney's Walt Disney Animation Studios, Pixar Animation Studios and Walt Disney Pictures. This includes a trailer which can be seen below, which shows some of the Pirates of the Caribbean costumes and environments that will be on offer.
Players can suit up as film characters such as Captain Jack Sparrow, Angelica, Mr. Gibbs, Captain Barbossa and Blackbeard as they navigate their way over the Thames River and through the city streets of London. The new world also includes cannons to fend off the pirate ships, water bombs to prevent London from burning and rubber duck vehicles that players can utilise to engage in a final battle in an attempt to gain access to the Fountain of Youth.
Disney Universe will be available 28th October 2011 for the Xbox 360 , PlayStation3, Nintendo Wii and Windows PC.