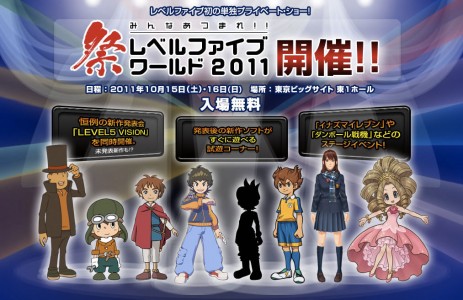 In the middle of next month, well-known game developer and publisher Level-5 will host their own gaming event entitled Level-5 World. Games from the studio will be shown to the public before release. Being held at the Tokyo Big Site, admission will be free. So, if you are in Tokyo on October 15 or 16 (or both dates), I would recommend paying a visit. Just be early.
The official website has been updated with a partial list of games that will be available as a demo at the event. This list includes:
Ni no Kuni (PS3)
Inazuma Eleven Go (3DS)
Girls' RPG (3DS)
Fantasy Life (3DS)
Professor Layton vs Ace Attorney (3DS)
Time Travelers (3DS)
Games that are announced at the event may also be playable. Notice the tremendous amount of support for the 3DS. At the Tokyo Game Show, a Sony document noted a Level-5 game in development for the Vita. This could be the event where we will know what the game may be.
Below is a commercial for the event, which highlights some of the games covered in that list. Also mentioned in the commercial is a new Gundam game for the upcoming anime Gundam AGE, which is being overseen by Level-5 and the story was created by Level-5 president Akihiro Hino. The Gundam AGE game will take the RPG route. I know one certain Capsule Computer editor who would be excited to hear that announcement.
Can't make it to the show? No worries, as Level-5 did announce that some events will be broadcast on Ustream for the world to enjoy. However, the main stage show, Level-5 Vision, hasn't been mentioned whether it will be broadcast on Ustream. One would expect that, considering this is where the title announcements will take place, this should be broadcast. I know I would like to see it. You know what would be better? Actually being there. Level-5 are excellent developers and Ni No Kuni for the Playstation 3 is on my Most Wanted list. I hope we hear a certain announcement on the back of this one.