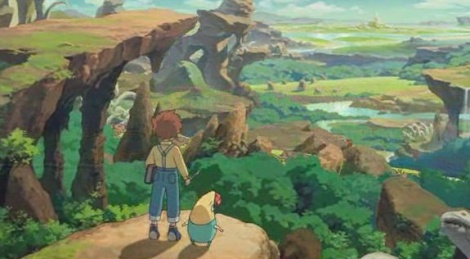 Ni No Kuni: Queen of the Holy White Ash is the PS3 version of a RPG collaboration between Level 5 and Studio Ghibli, the animations studio of legendary Japanese animator Hayao Miyazaki. Studio Ghibli were responsible for Spirited Away and Howl's Moving Castle and we all know how beautiful they look. Now, imagine the excitement of Studio Ghibli and Level-5 fans when they hear that Level-5 have plans to localise the game and release it in early 2012.
During the Sony Computer Entertainment Asia conference, which was near the Tokyo Game Show site and held yesterday, there was a panel involving Level-5 President Akihiro Hino. It was during this session when he announced the exciting news. In fact, he revealed that the localisation was in production as he spoke. There was no mention of the DS version, but I suspect that version will stay in Japan.
The PS3 version will contain additional story beyond the ending of the DS version as well as downloadable content post game release. No details on DLC have been announced.
Source: Gamespot