Ah Supanova, how fun you were to us over the weekend 😀 Out of both days of the event, I remember the second day being the most fun considering all of the celebrity interviews we obtained, the panels we attended and having a massive Capsule Computers party at the event (party as in Final Fanstasy meaning, not so much alcohol and house trashing). Be sure to check out Day 1 if you haven't already.
Day 2

Today's event was much smoother from the time we were allowed in. I managed to buy some Star Wars: Legacy trade paper backs (the final three! *finally* get to see the series end) before I met up with Kelly at the event. After meeting up, we took a quick walk around and decided to play some Child of Eden at the GAME booth. Man, that game can be difficult sometimes! A friend of mine bumped into me while I was playing and asked me about the game. Unfortunately, I was in gaming mode an I'm sure my answer was close to undecipherable. Apologies.
After our time gaming, we headed down to the Guest area to interview Sean Maher, who everyone knows best from FireFly and Serenity. He played Dr. Simon Tam and is quite cool. Sean is an amazing guy and we absolutely loved him! Also, during the interview, when he faux punched me in the face, I landed on my sunglasses and they broke. TROPHY! The interview went really well and you can watch it here.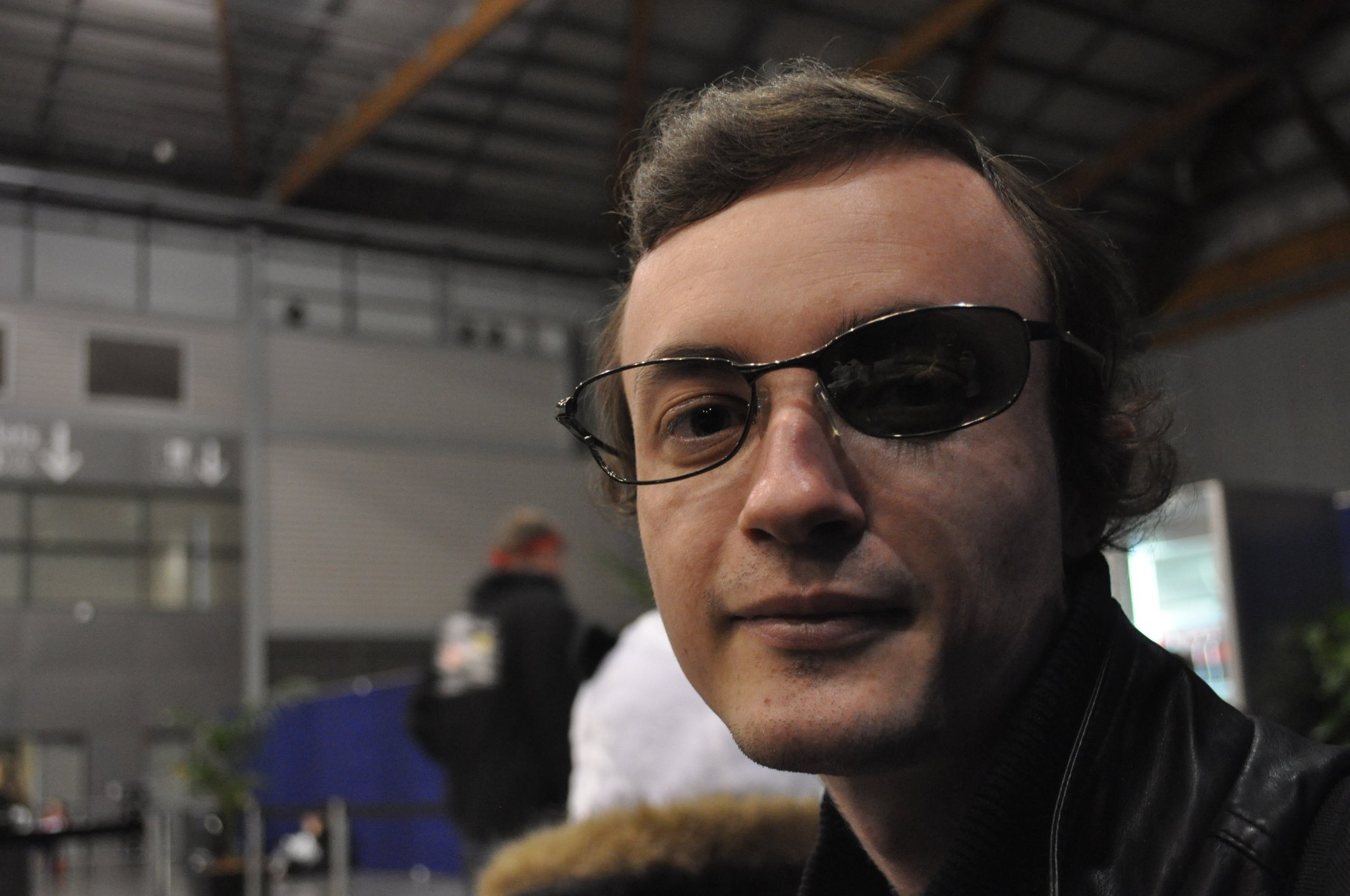 Thanks Sean! 😀 TROPHY!
Shortly after our interview with Sean Maher, we were able to score an interview with David Nykl! Who you all may know as Zelenka from Stargate Atlantis! That brings us to a total of two SGA cast members interviewed, I hope that in coming months and years that we are able to get the entire main cast. Anyways, we were only able to get ~10mins with him due to his signing obligations (and 5 of those were spent teaching us camera physics) but we ended up with an amazing interview and are incredibly greatful for the opportunity to meet him. Be sure to check out the interview here!
After completing this batch of interviews, we headed off to meet up with some other editors here at Capsule Computers, Spike and Grace, and hung out for a bit. We ended up going to meet the voice actor of Tychus Findlay (Of StarCraft) and Optimus Prime (Transformers, Robots in disguise), who is played by Neil Kaplan. Neil is such a friendly guy, I think we had a fair few of us get our autographs with him, which was great! We also got an interview with him, which *updated* Link here!.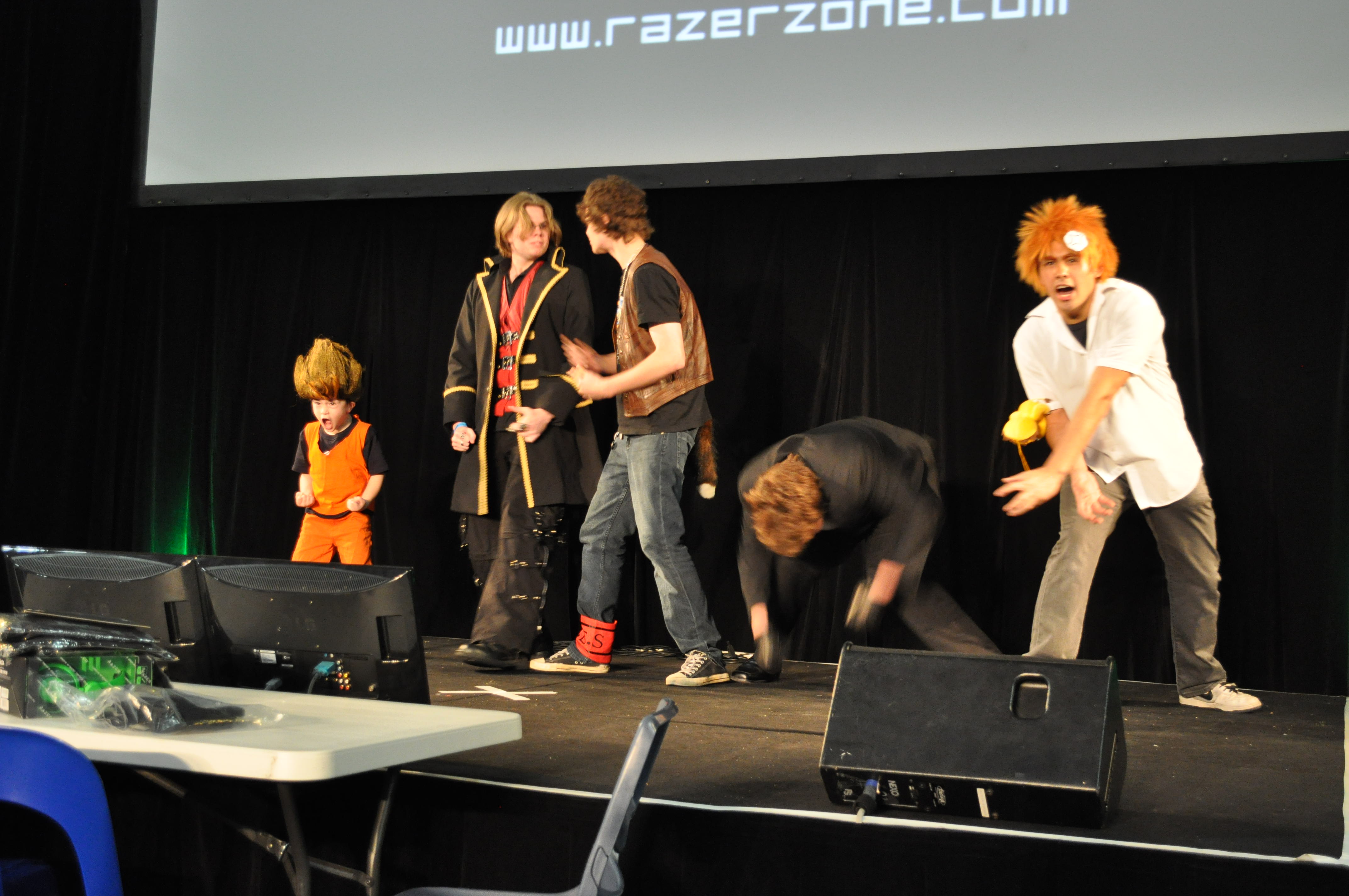 KAMEHAMEHA!!!!
During this point in time, we also managed to check out the Kamehameha contest. This contest is now a staple at every convention here in Australia and is always entertaining to watch. For this edition of the contest, I'm kind of glad a serious entry won, as opposed to a silly entry, even if the winner was a small child with the cute factor going into it. The final round was a small Goku versus a Gengar (the pokemon). The winner recieved a very nice gaming headset, courtesy of Razer, as well as Razer themed clothing. The runner up also recieved clothing, but no headset. Gratz' winner and runner up!
After scoring our interview and checking out the Kamehameha contest (as well as a little bit of the cosplay comp while waiting for Neil) we bumped into a friend of mine who is a quite popular cosplayer. On this day, he was walking around as a boxed pokedex for his costume, complete with working pokedex noises. Nice. He was also accompanied by a Cloud cosplayer, that we managed to convince to let us hold his sword (that's what she said). We got some pretty cool photos of it.
Oh, did I forget to mention that it was a Buster Sword?
After spending some time exploring, we went down to see Barbara Eden, with whom we were able to interview about various things. Unfortunately we weren't able to do a video interview, for various reasons, but were still able to record a voice interview. Be sure to check out our transcript here! Barbara was incredibly nice and beautiful! I know that both Kelly and Myself were quite proud to have met her.
We spent the rest of the day hanging out, having fun and the like. I ran into more people I know, like the Project Ouroborous team (they do Umberella Corps cosplays). We ended up buying some merchandise and maybe even a sword.
Tallies for the weekend
Energy Drinks Consumed – 4 (1 on the way to Sydney, 2 at the convention and 1 on the way home)
Merchandise Obtained – 9 (3 shirts (Brewfest, Highschool of the Dead and Dungeons & Dragons), 3 Star Wars comics, a Soul Eater wallet, a Tengen Toppa Gurren Lagann keychain and a Devil May Cry 4 armband)
Photos taken – Many, not sure about the others though (mine were 3DS ones, which can be found here).
People met – New ~6-7, Pre-Known ~15-20
Capsule Computers Staff in attendance (known) – ~5-6