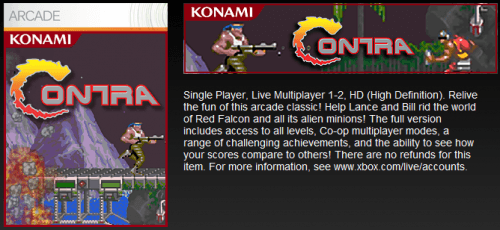 Up, Up, Down, Down, Left, Right, Left, Right, B, A… 😉 
For anyone out there that still hasn't tried out Contra/Gryzor here's your chance to do so.  Konami are practically giving the game away for free; and have announced today that Contra is 50% off on XBLA for only 200 MS Points until May 2nd!  Hurry and pick this up while its on sale.
Where did you first play this side scrolling classic?  For me it was at the local take away shop and I remember throwing in 20cent pieces into the machine like it was going out of fashion.
Add Contra to your download que via Xbox Live Marketplace here