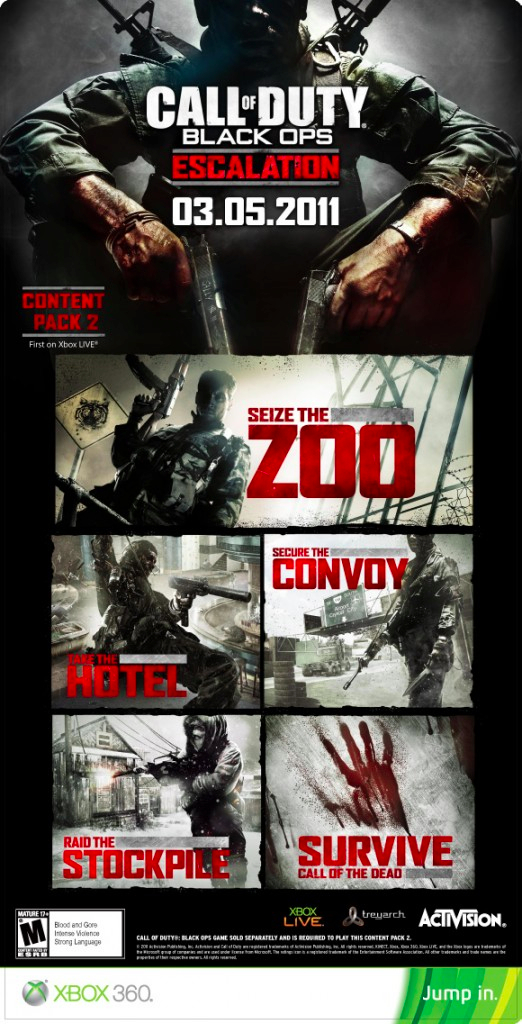 A few days ago, we brought you a story about the latest Call of Duty: Black Ops map pack being leaked by Australian retailer, GAME. It now seems that since the cat is out of the bag, both Activision and Microsoft have decided to come forth with some new details of just what the Escalation pack will hold, as revealed through Major Nelson's official blog:
Today Activision has announced Escalation, the next game add-on for Call of Duty: Black Ops and that it will be available first to Xbox LIVE members on Tuesday May 3rd. Escalation, the second downloadable content pack for Call of Duty: Black Ops, contains 5 all-new maps; featuring 4 Multiplayer maps and an epic Zombies experience with all-new playable characters. In Multiplayer, battle it out in Hotel, on the roof of a Cuban luxury hotel and casino against the vivid backdrop of old Havana; Convoy delivers intense, close-quarters combat at the scene of an ambushed US military convoy; Zoo takes you on a wild ride in an abandoned Soviet Russian Zoo, with danger at every turn; Stockpile pits players in a remote Russian farm town housing secret WMD facilities.
For Zombies fans, "Escalation" features a unique Zombies experience.
These new details don't give us a whole lot of information, but they do certainly help paint a better picture of what to expect for the 5 new maps included. As of now, there is no official price-point for the Escalation Map Pack at the moment, but I would expect for it to be around 1200 points. We will bring you some more updates for this developing story as more is revealed in terms on a PS3 & PC release, but for now all of you Black Ops players on the Xbox 360 can rejoice as your next map pack is just under a month away.