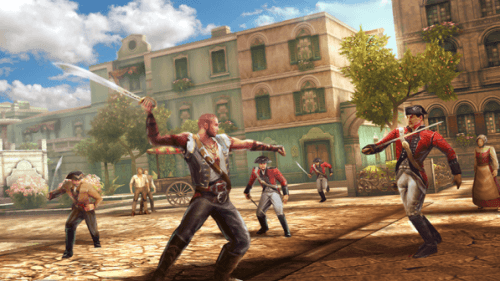 Set on 18th century Caribbean island, BackStab is a story of revenge that will be releasing exclusively for one month on the Xperia PLAY in the second quarter of this year.
Henry Blake has been falsely accused of treason, and he must use his special action and adventure skills to escape the clutches of his dreaded British prison masters. Free roaming, counter-attacks, duels,  races and "dynamic combat systems" are just some of the gameplay elements that will feature into the game.
"We are truly excited to continue our support of Xperia Play with an exclusive release of BackStab, bringing the action adventure experience to a new level," said Gonzague de Vallois, senior vice president Publishing of Gameloft. "We already have a strong line-up for Xperia PLAY and its capabilities as a fully enabled smartphone with dedicated gaming controls make this device one powerful contender in the gaming space."
"We are delighted that Gameloft have chosen to launch this stunning new title first on Xperia PLAY. BackStab sets a high benchmark graphically and technically for gaming on a smartphone and it is a fantastic addition to the fast growing portfolio of quality releases for Xperia PLAY", said Steve Walker, Head of Marketing for Sony Ericsson" said Steve Walker, Head of Marketing for Sony Ericsson.
For more info on the Xperia PLAY, check out our previous articles here, here and here. You could also take a peek at some videos of even more Gameloft titles coming to the device here.