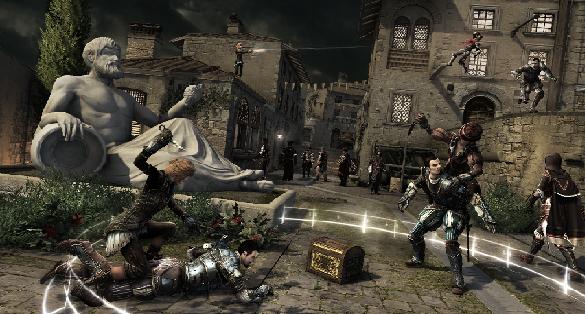 Fans of Assassin's Creed Brotherhood can now rejoice as a the new Animus Project Update 2.0 DLC is now out for the PS3 & Xbox 360 versions of the game. This DLC will come with a brand new mode as well as a new map for multiplayer and the details are quite intriguing.
The map that comes with the new DLC is the Pienza Map which will be a free-running playground where predators and targets can blend and disappear.
The most interesting new feature to come with this update though is the new Chest Capture Multiplayer Mode, where two teamsof three players each, partner with fellow Templars to either defend or capture Chests. The "Capturers" must use their HUDs to locate and capture the chests, while "Defenders" must use their skills and quick reflexes to track down their foes and protect the chests.
Also included in this update is a new leaderboard system referred to as the "Templar Score" feature which will be updated weekly and based on the users scores of the previous four weeks.
All of this content is all available for the low price of free on both the Xbox 360 & PS3, so owners of this game should get this update on their queue and get to stalking the streets yet again. Check out the new trailer for this update below and to keep up to date on the latest news and updates, visit the game's official web site at http://assassinscreed.uk.ubi.com/brotherhood/ , via Twitter @AssassinsCreed and Facebook at facebook.com/assassinscreed.