A while back, we told you about the unique new visual novel thriller, Nine Hours, Nine Persons, Nine Days coming to the Nintendo DS from Aksys Games. Aksys have now announced a pre-order bonus that is one of the best bonuses I have seen this year, a digital watch crafted straight from the game.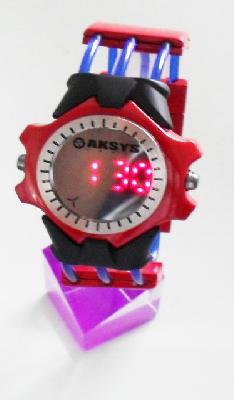 Customers who pre-order a copy of the game online at GameStop will receive the exclusive Nine Hours, Nine Persons, Nine Doors watch. The Nine Hours, Nine Persons, Nine Doors watch is a replica of the "bracelet" worn by nine prisoners of the Nonary Game. The watch is made of heavy-duty metal and resilient plastic tubing, with a screen that appears to be solid metal until the button is depressed, displaying the time in bright, red digits. Also notice the sharp Aksys logo on the faceplate, making it the perfect item to add to your swag collections.
"You too can sport the watch that the game revolves around, just like Junpei and his companions!", says Frank "Bo" deWindt II, Associate Producer, Aksys Games.
Customers who are not online shopping fans can also contact their local Gamestop for more details on pre-ordering in-store to receive the bonus.
"999" is looking to be an awesome experience on the Nintendo DS with an intense story where every decision you make is critical to how the outcome of each character's story will result. I personally am already being drawn in to Junpei's story more and more and as more news is released and we will be sure to bring more updates up to the scheduled release date of November 16th.