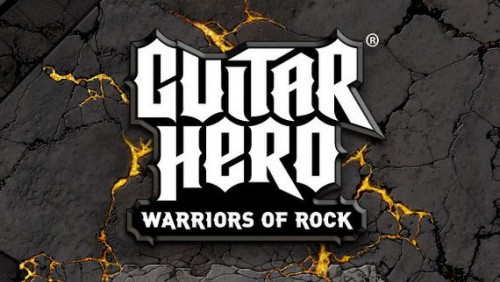 Who's tired of Guitar Hero and other music games? As a musician, I know your pain. Last year was like a mass-genocide of music games with all the crap they put out. This year, it seems, they've decided to bring their A game. Rock Band 3 is adding keyboard support and a pro-guitar which is supposed to actually teach you how to play, and Guitar Hero is… adding a story mode.
Well, I love great stories, and this one is narrated by the Demon himself, Gene Simmons, so maybe it might be worth checking out? I know I'll at least rent it if my eyes aren't deceiving me about the song list below:
A Perfect Circle – "The Outsider"
Aerosmith – "Cryin'"
AFI – "Dancing Through Sunday"
Alice Cooper – "No More Mr. Nice Guy"
Alter Bridge – "Ties That Bind"
Anberlin – "The Feel Good Drag"
Anthrax – "Indians"
Arch Enemy – "Nemesis"
Atreyu – "Ravenous"
Avenged Sevenfold – "Bat Country"
Bad Brains – "Re-Ignition (Live)"
Band Of Skulls – "I Know What I Am"
Black Sabbath – "Children Of The Grave"
Blind Melon – "Tones Of Home"
Blue Öyster Cult – "Burnin' For You"
Bush – "Machinehead"
Buzzcocks – "What Do I Get?"
Children Of Bodom – "If You Want Peace… Prepare For War"
Creedence Clearwater Revival – "Fortunate Son"
The Cure – "Fascination Street"
Deep Purple – "Burn"
Def Leppard – "Pour Some Sugar On Me (Live)"
Dethklok – "Bloodlines"
The Dillinger Escape Plan – "Setting Fire To Sleeping Giants"
Dire Straits – "Money For Nothing"
DragonForce – "Fury of the Storm"
Drowning Pool – "Bodies"
Edgar Winter– "Free Ride"
Fall Out Boy – "Dance, Dance"
Five Finger Death Punch – "Hard To See"
Flyleaf – "Again"
Foo Fighters – "No Way Back"
Foreigner – "Feels Like The First Time"
George Thorogood and The Destroyers – "Move It On Over (Live)"
The Hives – "Tick Tick Boom"
Interpol – "Slow Hands"
Jane's Addiction – "Been Caught Stealing"
Jethro Tull – "Aqualung"
John 5 – "Black Widow Of La Porte"
KISS – "Love Gun"
Linkin Park – "Bleed It Out"
Lynyrd Skynyrd – "Call Me The Breeze (Live)"
Megadeth – "Sudden Death"
Megadeth – "Holy Wars… The Punishment Due"
Megadeth – "This Day We Fight!"
Metallica & Ozzy Osbourne – "Paranoid (Live)"
Muse – "Uprising"
My Chemical Romance – "I'm Not Okay (I Promise)"
Neil Young – "Rockin' In The Free World"
Nickelback – "How You Remind Me"
Night Ranger – "(You Can Still) Rock In America"
Nine Inch Nails – "Wish"
The Offspring – "Self Esteem"
Orianthi – "Suffocated"
Pantera – "I'm Broken"
Phoenix – "Lasso"
Poison – "Unskinny Bop"
Queen – "Bohemian Rhapsody"
Queensrÿche – "Jet City Woman"
Rammstein – "Waidmanns Heil"
The Ramones – "Theme From Spiderman"
Red Rider – "Lunatic Fringe"
R.E.M. – "Losing My Religion"
Rise Against – "Savior"
The Rolling Stones – "Stray Cat Blues"
The Runaways – "Cherry Bomb"
Rush – "2112 Pt. 1 – Overture"
Rush – "2112 Pt. 2 – The Temples Of Syrinx"
Rush – "2112 Pt. 3 – Discovery"
Rush – "2112 Pt. 4 – Presentation"
Rush – "2112 Pt. 5 – Oracle: The Dream"
Rush – "2112 Pt. 6 – Soliloquy"
Rush – "2112 Pt. 7 – Grand Finale"
RX Bandits – "It's Only Another Parsec…"
Silversun Pickups – "There's No Secrets This Year"
Slash featuring Ian Astbury – "Ghost"
Slayer – "Chemical Warfare"
Slipknot – "Psychosocial"
Snot – "Deadfall"
Soundgarden – "Black Rain"
Steve Vai – "Speeding" (Vault Version)
Stone Temple Pilots – "Interstate Love Song"
Strung Out – "Calling"
Styx – "Renegade"
Sum 41 – "Motivation"
Tesla – "Modern Day Cowboy"
Them Crooked Vultures – "Scumbag Blues"
Third Eye Blind – "Graduate"
Tom Petty & The Heartbreakers – "Listen To Her Heart"
Twisted Sister – "We're Not Gonna Take It"
The Vines – "Get Free"
The White Stripes – "Seven Nation Army"
ZZ Top – "Sharp Dressed Man (Live)"
Rammstein, Bush, Dethklok, Creedence Clearwater Revival, Rush, okay maybe I'm sold on this one. I avoided all music games last year, so this year I have to get this one and jam through it. Kinda excited, not gonna lie, who's coming over the Kail-Cave for some brews and Guitar Hero?