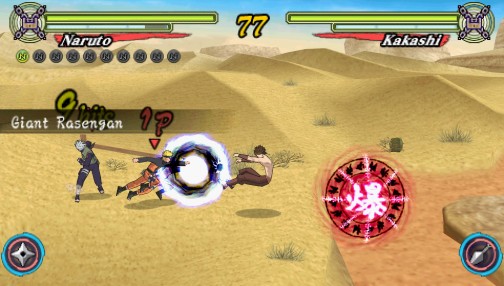 Namco Bandai have announced that a free multiplayer demo of Naruto is now available on PSP via the Playstation Network.  The full details of the Press release is below.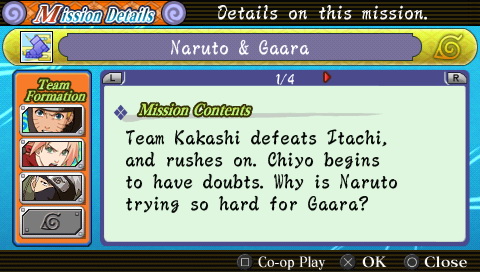 SANTA CLARA, Calif., (May 4, 2010) – NAMCO BANDAI Games America Inc. announced today that a free multiplayer demo of NARUTO™ SHIPPUDEN: Ultimate Ninja® Heroes 3 is now available for download exclusively for the PSP® (PlayStation®Portable) system via the PlayStation®Network. Offering a taste of the game's intense ninja action, the demo allows players to step into the shoes of Naruto, Kakashi, Pain or Konan and battle head-to-head with up to four friends through an ad-hoc connection. Playable in single player free battle or ad hoc multiplayer modes, the demo also includes three maps that give players a glimpse into the renowned Naruto world: Hidden Leaf Village, Akatsuki Hideout and Cliff of Morning Mist.
Based on the popular animated NARUTO SHIPPUDEN series from VIZ Media, NARUTO SHIPPUDEN: Ultimate Ninja Heroes 3 refines the series' trademark fighting mechanics by offering an all-new adventure mode, a new roster of fierce ninja, and robust multiplayer battles. Players can follow the Nine-Tail Fox ninja in his continuing efforts to save his friend Sasuke via the game's new Master Road mode. With more than 80 action-packed missions, skills are put to the test as players face intense battles using one of more than 50 characters. Additionally, NARUTO SHIPPUDEN: Ultimate Ninja Heroes 3 features a three-player cooperative mode which allows them to experience select adventures in the main story.
NARUTO SHIPPUDEN: Ultimate Ninja Heroes 3 is rated "T" for Teen by the ESRB and will be available throughout North America on May 11, 2010. For more information on the game, please visit www.namcobandaigames.com or www.hokagesroom.com.  NARUTO SHIPPUDEN is currently airing on Disney XD.  For more information on NARUTO, and to view free streaming episodes of NARUTO SHIPPUDEN, please visit www.naruto.com.