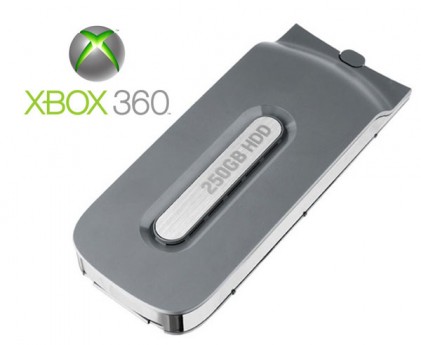 Microsoft have announced a new 250gb hard drive which will allow you to store more cool stuff on your Xbo 360.  With everything moving slowly to digital downloads, and games giving you the option to install on the hard drive for better performance, a bigger hard drive is always welcome.  I'm on a 120 gb and I only have 60gb left !!  I think it's time for an upgrade !!
Check out the official release below.
SYDNEY, AUSTRALIA – 10th May, 2010 – Available in stores today, Xbox 360 introduces the 250GB Hard Drive which offers more space to store your favourite games and entertainment content.  Available for $199.99*, the 250GB Hard Drive offers more freedom to download the latest demos, Xbox LIVE Arcade games, the latest titles from Xbox Movies on Demand and more straight to your Xbox 360 console. 
Xbox LIVE is the premier destination to download the best games and entertainment at the touch of a button. Xbox 360's online service features a growing library of movies available to download or stream instantly, Facebook and Twitter –  you're bound to find something you love. With more than 525,000 Xbox LIVE subscribers across the ANZ region, it is one of the largest online communities anywhere in ANZ.
Want to express your personality and style on Xbox LIVE? With the added storage space of the 250GB Hard Drive, it makes it easy to download and save new Avatar clothes and props from your favourite clothing brands and games, including Roxy, Quiksilver, Adidas, "Halo", "Gears of War" and more.
More detailed information can be found at www.xbox.com.au